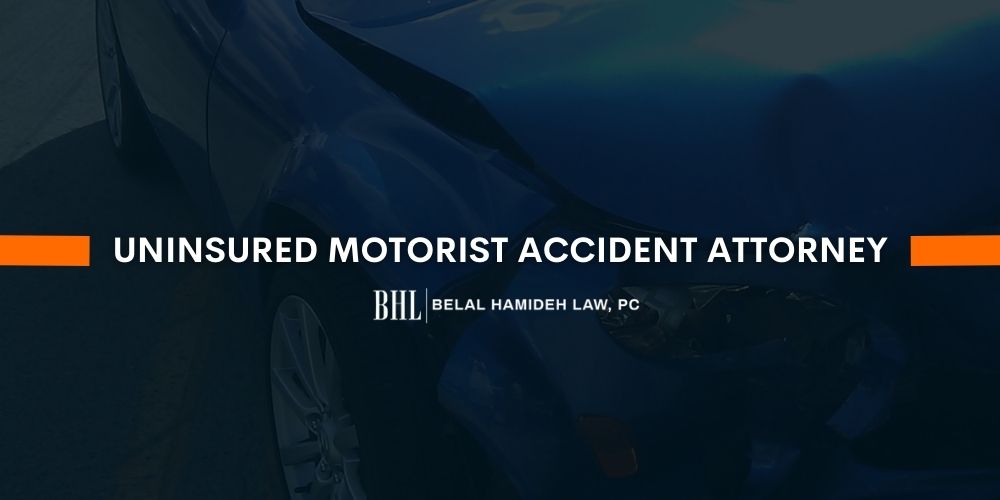 Were you injured in an accident where the other driver didn't have any insurance?  Have you or someone that you love been hurt when a driver without auto insurance (or enough auto insurance) crashed into you? Every California driver is required to carry auto insurance. There are no exceptions. If someone injured you in an accident and they don't have insurance or they are underinsured, Belal Hamideh, an experienced uninsured motorist accident attorney, may be able to help. 
Over the years, Belal and the team here have been able to help many who are in the exact position that you are right now. During a free consultation, Belal can let you know exactly what your claim is worth and how he can help you to receive maximum compensation. 
What Insurance Must Drivers Carry in California? 
According to the California Department of Motor Vehicles, the minimum liability insurance requirements are: 
$15,000 for injury/death to one person. 

$30,000 for injury/death to more than one person. 

$5,000 for damage to property. 
Drivers must also carry evidence of insurance in their vehicles at all times. 
If someone hits you in an accident and doesn't carry this insurance, Belal may be able to help you. Additionally, the driver liable for your accident may be "underinsured." That means that they don't have enough insurance to cover the damages they've caused. In either circumstance, your best course of action is to contact Belal for a free case evaluation. 
What Should I Do if I'm In an Accident With an Uninsured Motorist? 
Your first action if you're in a vehicular accident is to remove yourself from harm's way. Do so to the extent possible without putting yourself or anyone else at further risk. Assess your injuries as well as those of others in your vehicle as best you can. 
Call 911. A police report can be invaluable when it comes to your eventual case. 
Get professional medical attention. Hopefully, neither you nor anyone else was injured in the accident. However, even if it seems as if you weren't injured, many of the worst internal injuries can worsen over time. The earlier you get checked out, the sooner you can receive effective medical treatment.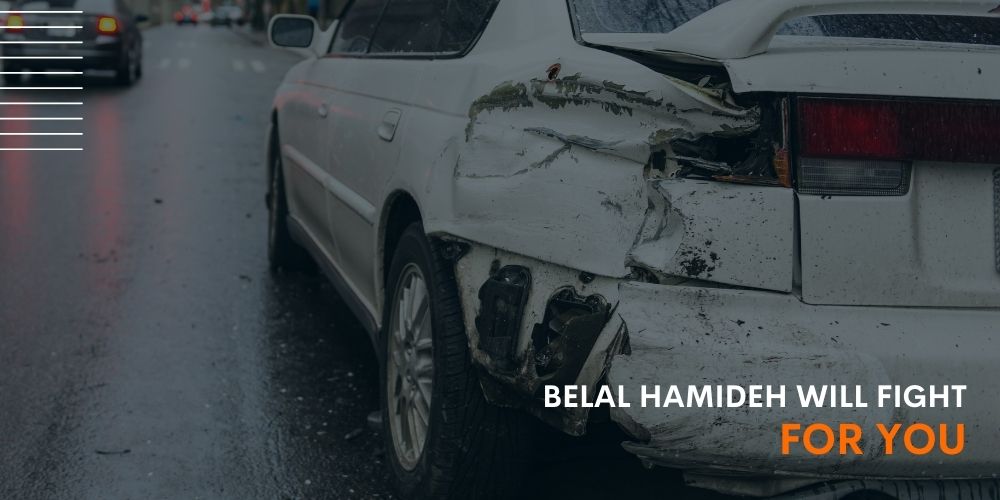 Get the contact information from all parties involved. Do so without admitting fault. Their name, their address, contact info, etc. Ask if they have insurance. If they don't, make note of that as well. 
Contact your insurance provider. Let them know exactly what happened without embellishment. 
Once you've done everything above, then reach out to Belal Hamideh for a free case evaluation. 
What Compensation Can I Receive for an Uninsured Motorist Accident? 
In an accident involving an uninsured motorist, you can receive economic as well as noneconomic compensation. 
Economic compensation covers bills that you may be facing due to the accident. This is compensation for your medical bills, your treatments, your medication, rehab, and so forth. Additionally, this covers any wages you lost on account of being unable to work, or even wages you would have made that, because of the injury, you can't. 
Non-economic compensation, on the other hand, covers that which can't be quantified. This is compensation for everything that you've had to go through, your pain, your suffering, loss of your quality of life, loss of enjoyment in your hobbies, loss of consortium, and more. 
In your initial free case evaluation, Belal will let you know what your case is potentially worth. Then, he and the rest of the team here will work tirelessly so that you receive all of the compensation that you deserve.  
How Can I Protect Myself From an Uninsured Motorist Accident? 
When you're on the road, you can do everything to drive safely, defensively, and conscientiously. However, there is only so much you can do. Anyone on the road is at risk of being crashed into by an uninsured motorist. 
That being said, there are steps you can take to specifically protect your finances should you be hit by an uninsured motorist. You can get uninsured motorist insurance ahead of time. By doing so, you'll be in a much, much better position to be able to claim all of the compensation you deserve should you be hit in an accident by a driver who has insufficient insurance or none at all. 
How Belal Hamideh Can Help 
Belal and the team here have helped me through cases involving uninsured or underinsured motorists. In that time, we've been able to help our clients to receive maximum compensation. We do this, in part, by representing you as aggressively as possible with a legal strategy specifically crafted for your case. 
For example, when you sit down with Belal to go over your case, he can let you know whether it's best to go after your insurance company in arbitration or to bring a case against the driver, both, or some other action. 
Then, throughout your case, Belal will communicate with you as much as you would prefer. That way, you can always know what's going on with your case. We've found that the more informed a client is, the better they'll be able to make the right decisions for their needs. 
Belal and the team here work on contingency. That means that we don't get paid unless we win your case. You don't have to pay us out of your pocket. Instead, our payment comes out of your eventual settlement. We win 99% of the time and we can bring that experience to your case. 
Experienced Uninsured Motorist Accident Attorney 
Any vehicular accident can be challenging, but one involving an uninsured motorist can be more challenging still. If the other driver lacks the necessary insurance, that doesn't necessarily mean that you will have to take less compensation than you deserve. Through aggressive negotiation, Belal can work to make sure you get everything you should for all that you've been through. 
For a free case evaluation with an experienced uninsured motorist accident lawyer, complete the contact form at our site or call.