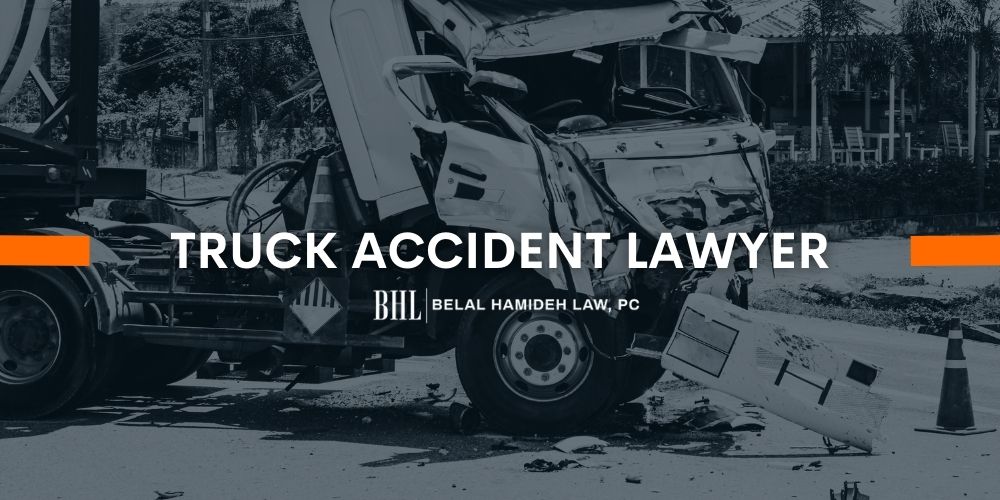 If you've been injured in a truck accident, a Long Beach truck accident lawyer can help you in a variety of ways. Trucks can weigh around 80,000 pounds when fully loaded, so these accidents can have a much higher potential for damage than other vehicular accidents. You can receive help finding medical care as well as aggressive representation from a truck accident attorney, all without having to pay upfront costs. 
For many years, Belal Hamideh Law has helped clients in your position to receive all of the compensation that they deserve. It's an honor to represent Long Beach and all of California. The goal at our firm is always to achieve the best possible results for all of our clients. That way, you can get everything you deserve for all that you've been through. We always offer free consultations to help people in your position. Contact us through our site or give us a call.
What Are The Most Common Causes of Truck Accidents?
Truck accidents can be caused by many factors. Some of the most common include: 
Fatigue. Truck drivers are meant to only drive for limited hours, but they can push themselves (or be pushed by their bosses) to the point where their reaction times slow, their decision-making capabilities drop or they even fall asleep at the wheel. 
Excessive Speed. Truck drivers are on deadline and trucks require lots of roads as well as time to properly brake, slow, and stop. 
Distracted Driving. Unfortunately, even truck drivers can cause accidents through texting, eating, or other behaviors. 
Driving Under the Influence. Sometimes, truck drivers do get behind the wheel intoxicated, high, or in a similar state. 
Improperly Maintained Truck. Brakes, tires, wheels, steering, and other maintenance issues could cause an accident. 
Defects in the Truck. Manufacturers' defects pose a crash risk, causing accidents more often than many may think. 
Improper Loading. Truck accidents can be caused by something as simple as a loose, overweight, or unsecured cargo container. 
The Environment. Snow, ice, strong winds, and even rain can cause a deadly accident. 
No matter how your truck accident occurred, our firm can aggressively represent your case if the other driver was responsible for the crash. 
What Can You Do After Suffering a Truck Accident?
After a truck accident, you very well might be injured and/or in shock. It's natural and perfectly understandable to feel overwhelmed by the pain, suffering, financial strain, mental struggles, and so much more. We can walk you through the entire legal process, from the beginning to the end, so that you can have the best possible outcome. That said, there are some steps you want to take in the immediate aftermath of a truck accident: 
No matter how minor or inconsequential the accident may seem, even if no one has seemingly been injured, call the police. Damage, to both your person and your vehicle, may appear over time. The police will file a report which can be important evidence to your claim. 
Seek out medical treatment from a professional after your accident. You may feel perfectly fine as if you suffered no injuries whatsoever. However, it's entirely possible that you've suffered internal injuries that you may not yet be aware of. A record of you having gotten medical treatment can make all the difference in the world in your accident claim, too. 
If Able, Collect Evidence. 
If you're unable to move or get out of harm's way, don't worry about this and just stay safe. But, if you're able to move, taking pictures of both your injuries as well as any damage to your vehicle can be invaluable. You may also want to get pictures of environmental evidence that may disappear, such as skid marks, damage to nearby structures, and the like. 
Get the Other Person's Information 
Should you be in a position to do so, get the contact information as well as the insurance information of the other person. If multiple parties were involved in the accident, get everyone's information. Speaking of others, talking to witnesses and collecting their information is also a good idea.  
Call a

Long Beach Truck Accident Lawyer

. 
The sooner you reach out to us, the sooner we can get to work on your case, helping you to receive everything you deserve.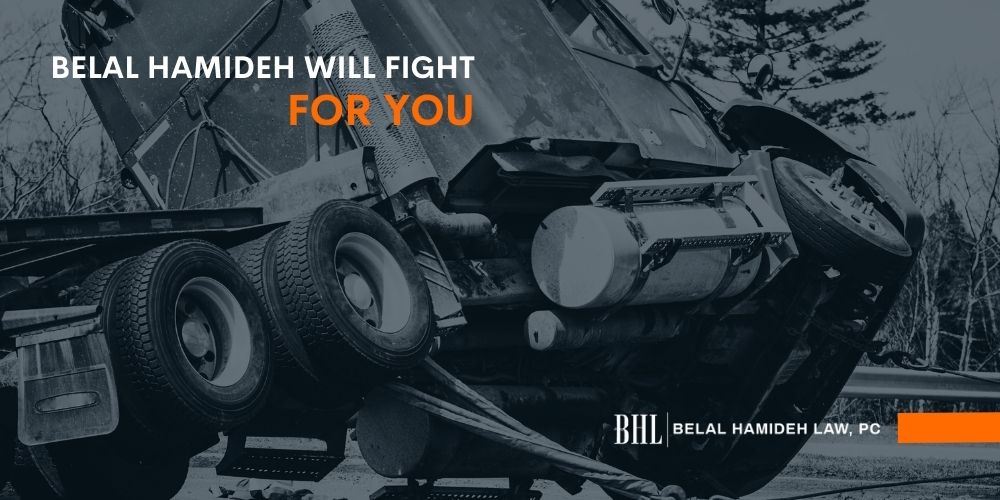 Why Should You Hire a Long Beach Truck Accident Lawyer?
Cases involving truck accidents can be very complex. That makes them extremely difficult for victims to try their cases on their own. For one, trucking companies are ruthless in defending themselves against lawsuits. They tend to have teams of investigators they dispatch to the accident immediately. Trucking companies work hand in hand with the insurance companies to do everything in their power to ensure people like you receive little to nothing for your suffering. 
Additionally, multiple defendants are often involved in these cases. The driver could be at fault, as could the trucking company, a leasing company, the company that loaded cargo onto the truck, the manufacturer of the truck, and others. An attorney with experience in truck accident cases can find exactly who's at fault on your behalf so that you have the best chance of receiving all of the compensation you deserve from all of the parties who have wronged you. 
What Injuries Can I Claim for in a Truck Accident?
You can claim economic and non-economic damages (compensation) in a truck accident. Economic damages give you money for all that you've had to pay for in the wake of your accident. Any medical expenses that you may have had, such as therapy, counseling, treatment, even bills for the ambulance can be reimbursed.
 You could also be paid lost wages for the money you would have made had you been working if you hadn't been in the accident. Should you be unable to go back to work, you can receive the money you would have made then, too. You could receive money to repair your vehicle or even to replace it. Compensation for catastrophic injuries, such as modifications to your home and in-home care, may also be available. 
Non-economic damages include pain and suffering, as well as any anxiety and emotional distress you may have gone through. Disfigurement and the loss of a limb or any body part are considered non-economic damages. The loss of your quality of life and loss of consortium (spouse's companionship) are also examples. We represent you aggressively so that you can receive everything you deserve.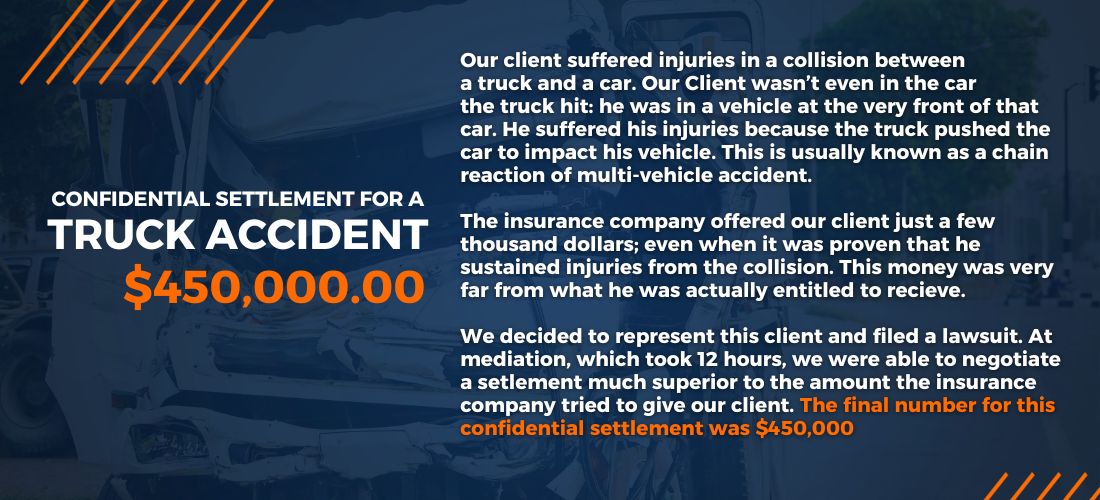 Who's Liable in a Truck Accident?
Truck accidents can be more complicated than car accidents, where one driver and their insurance company may be liable. In a truck accident, however, there are often many parties who could potentially be at fault. Truck drivers themselves are often liable, and while many of them are independent contractors, many others work for a commercial company or even the government.
Every case is different. In your accident, the truck driver and their insurance company may be liable. If the owners of the truck failed to comply with necessary safety rules and regulations, they too could be at fault, as could any manufacturer who sold the truck despite defects. Any mechanic who doesn't properly repair a truck could be at fault, as could whoever loaded cargo onto the truck incorrectly. Even the owner of where the accident took place could be at fault, should they be responsible for the conditions (even partially) that led to the accident. 
We can draw upon our years of experience to discover everyone who was at fault in your accident. That way, you can get the compensation you deserve from every responsible party.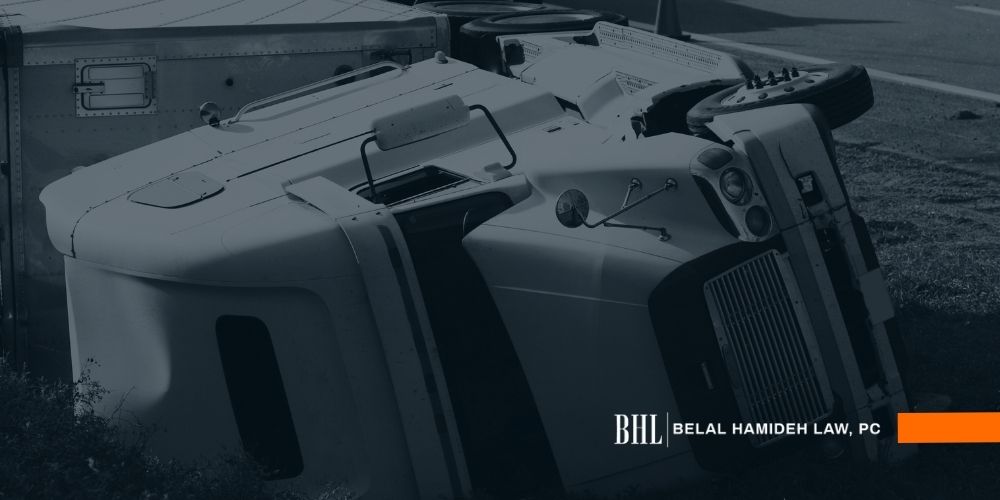 What Happens if The Truck Accident is Partially My Fault?
You can still recover damages and receive compensation even if you were partially at fault for your accident. Your case could come under the rules of "comparative negligence." That means that your recovery may be lessened proportionally in terms of how much of the accident was your fault. If you were 30% at fault, for example, you may receive 30% less compensation than you would otherwise. 
The truth is that when you're in a truck accident, there is only really so much you can do. Your car is smaller than a truck and it can be very difficult to get your car out of the way of a truck, no matter how experienced a driver you are. Our team can work to find all of the parties responsible so that liability for your case is put where it belongs. 
Call Our Long Beach Truck Accident Lawyer – No Fee Unless We Win!
You deserve to have someone on your side with a proven track record of taking trucking companies (as well as others) on and winning. After a truck accident, you have so much to worry about and deal with. We can take the case off of your shoulders, representing you aggressively so that you get everything you deserve. For a free consultation, call a Long Beach truck accident lawyer at (562) 526-1224