One of The Most Common Work-Related Injuries
In workers' compensation cases, back injury back very common. That's why a back injury attorney is a special help in these cases. Most work injuries to the back occur in the low back (lumbar spine). This work injury is caused because many jobs require bending, stooping, and lifting. All these work activities cause stress to the low back and result in injury which is compensable under workers comp.
Back injuries can occur in even the plushest, safest office. As soon as you suffer an injury to your back, stop working and seek help. The damage from many back injuries can be felt throughout your body. After an injury to your back, you could feel fatigued, dizzy, numb, blurred vision, tingling, muscle spasms, or even blurred vision.
What can make these injuries pernicious is that the symptoms often aren't apparent in an accident's aftermath. After many back injuries at work, folks may have some pain and swelling, but for the most part, the full scope of their injuries will not become obvious for many hours, sometimes days, and even months. This makes it all the more important that you don't try to "tough it out" with an injury to your back. You are eligible for workers' compensation regardless of what type of back injury you have as long as your back injury is related to your work. A skilled back injury attorney can guide you through the process.
Most people don't realize how much they use their back in the course of a given day. Sure, you use it when you lift and carry heavy objects. However, you use it every time you stand up, sit down, walk, and move. If your back hurts, things are not OK.
Getting Care After Injuring Your Back
When your back has been injured, you should get treatment as quickly as possible. Stop what you're doing, alert a supervisor (if you're at work), and then get medical attention. Most people realize this if there's some kind of visible wound on their back or their mobility has been hampered or something similar, but it's true even if you think you "just kind of" injured your back.
The truth is that injuries to the back are complex. What seems like it could be fine might actually end up being worse than you ever might have thought. Too often, an injury with no visible scarring has grievous internal damage. A back injury, like so many others, may not seem debilitating or even particularly damaging in the wake of an accident, only to reveal itself as such later on. "Later on," in fact, could mean "in a few days, in a week, or even months down the line."
The sooner you get an injury to your back checked out, the better off you could potentially be.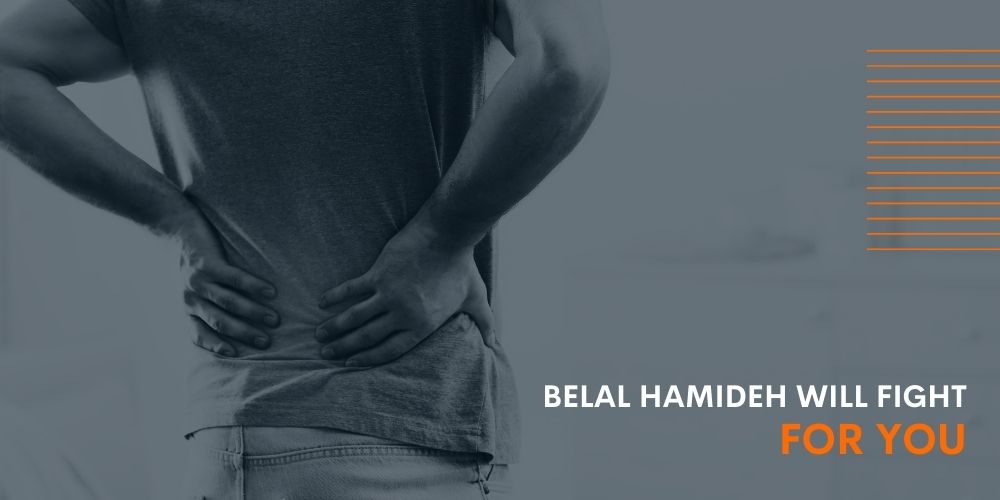 Calculating How Much of Permanent Impairment Has Been Caused
In workers' compensation, a back injury attorney uses the DRE method (which stands for "Diagnosis-Related Estimates") to determine how much percentage of permanent impairment an injured worker has incurred. The DRE chart is as follows:
DRE 1 (0% Disability) : No significant clinical findings. No observed muscle guarding or spasm.
DRE 2 (5-8% Disability): Clinical history and examination findings are compatible with a specific injury
DRE 3 (10-13% Disability): Significant signs of radiculopathy. Impairment may be verified by electrodiagnostic finds.
DRE 4 (20-23% Disability) : Fractures: (1) greater than 50% compression of one vertebral body without residual neurologic compromise.
DRE 5 (25-28% Disability): Both radiculopathy and altered motion segment integrity are present.
Back Injury Compensation Case Study – Back, Shoulder and Hip Injuries ($250,000.00)
Our client sustained back, shoulder, and hip injuries. After a lengthy negotiation, we obtained the maximum settlement value for the sustained injuries.
Future Medical Care For Your Workers Compensation Injury
Work injuries to the back require different types of medical evaluations and treatment including physical therapy, medication, epidural injections, orthopedic evaluations, diagnostic testing, and surgery. As with so many other kinds of at-work injuries, early diagnosis can go a long way towards detecting the extent of your injuries.
The truth is that injuries that start in the back don't often stay there. You could think that you've just hurt your back, but soon, the pain, numbness, and worse spread out through your legs, arms, and more. If you've suffered a grievous enough injury to your spine, for example, it could lead to paralysis and other permanent injuries.
If you have a disc protrusion as a result of your workers' compensation injury, the type of treatment you need depends on whether your disc protrusion is encroaching on an exiting nerve root of your spinal canal.
If the intervertebral disc is encroaching on the exiting nerve root of the spinal canal, then you may require a discectomy or fusion surgery to remove the disc from the exiting nerve roots.
Hopefully, yours is a back injury that can be healed in a brief period of time, or perhaps with over-the-counter treatments. However, you might also have an injury with lasting consequences, potentially for the rest of your life. If you have to receive constant medical attention, assistance, or medication moving forward, you deserve to be compensated for all of that. Additionally, you should be compensated for wages that you lost from missing work time.
Regardless of whether you are a DRE 1 or DRE 5, you need to consult with a Long Beach back injury attorney to evaluate your diagnostic images (i.e. MRI) and ensure you receive maximum compensation for your work accident.