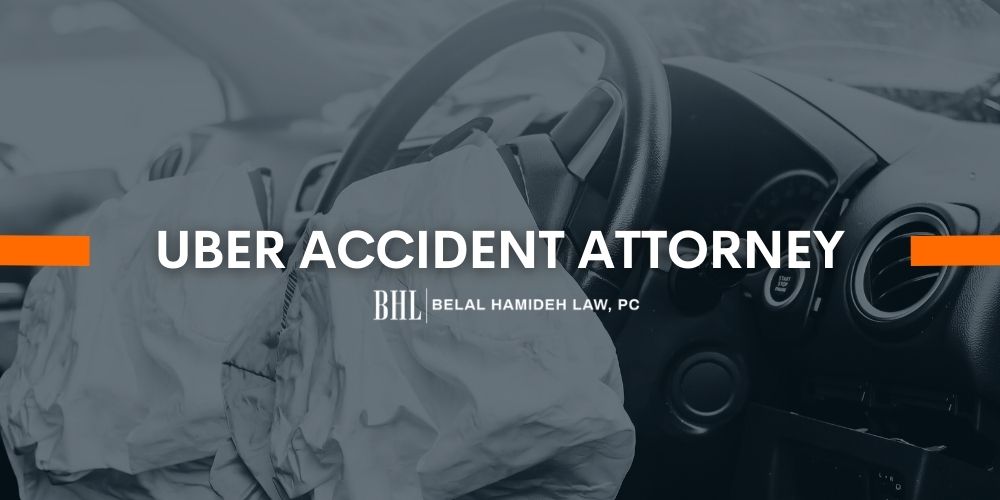 Were you involved in an accident involving Uber, or some other rideshare service? Whether you were a passenger, driver, or pedestrian, you may be entitled to compensation. Rideshare services are popular and convenient, a safe way to get home after you've had a few. But, even the best rideshare driver could get into an accident. If you've been injured in an accident involving rideshare, an Uber accident attorney could help. 
Whether you were hurt as a passenger in an Uber or or you were struck by someone driving for those rideshare apps, you didn't choose to be injured. As a result of your injury, you could be looking at medical bills, an inability to work, length of rehabilitation, and other challenges. Belal Hamideh Law has years of experience with these kinds of cases. We can draw upon that experience to help you to get all of the compensation you deserve. 
What Do I Do If I'm Involved in an Uber Accident as a Passenger?
Get to Safety.

Hopefully, your driver will move the vehicle out of harm's way, but remind them if you have to. If it doesn't put you at risk and you feel healthy enough to do it, check if you're injured. Then, check others for injuries, if possible. 

Call 911.

If any injuries seem serious, ask for an ambulance. Be sure to seek medical attention even if you don't have injuries you can see, as you may be in shock. When the police arrive, be certain to file a police report. This will help your case. 

If Possible, Document Evidence.

Just as with any other kind of vehicular accident, get the Uber driver's name, license, and insurance. If others were involved with the accident, be sure to get their info, too. That includes witnesses as well. Should you be able to do so safely, take pictures of the damage to involved vehicles, the surrounding area, and more. Take pics of any injuries, too. You also will want to document exactly where this accident occurred. 

Reach Out to an Attorney.

You very well may be entitled to compensation. An experienced attorney can help to make sure you receive it. 
The Uber Hit Me: What Can I Do?
You have the same rights as an Uber passenger who was injured in an accident. What matters most is your safety. Follow the same steps as listed above and be sure to get the information of the Uber driver. Remember: many of the worst injuries aren't felt right away but worsen over time. Getting medical attention from an experienced professional is critical. Then, afterward, you can contact an attorney who can help. 
I'm an Uber Driver and I got Injured; What Should I Do?
After you've followed the same steps listed above (and gotten the information of the other driver) make sure to contact an experienced lawyer who is familiar with rideshare accident law. That should be your first step if you were driving for Uber and were injured in an accident that was not your fault. Uber do not look out for their drivers, as California Assembly Bill 5 clearly demonstrated. These laws can be confusing. Uber will do everything in their power to avoid any and all financial responsibility. By having an experienced lawyer on your side, you put yourself in the best position for the compensation you should have. 
Understanding Uber's Policy and Liability Insurance
Uber's policy limits for drivers are dependent entirely upon whether the driver was "offline" (not logged into the app) or in Period 1, 2, or 3. 
Offline. In this case, the accident would be covered by the driver's personal auto insurance, as they are not logged into the Uber app at the time of the accident. 

Period 1. This is the period when an Uber driver has logged into the Uber app but has not yet accepted a ride.  If an Uber driver is in Period 1, the insurance policy limits are $100,000 of bodily injury liability coverage per accident, as well as $50, 000 of bodily injury liability coverage per person injured in an accident and $30,000 of property damage liability coverage per accident. 

Period 2 and Period 3. An Uber drive is in Period 2 when they accept a ride and Period 3 when they pick up a passenger, respectively. Uber provides drivers in both periods with $1 million in uninsured/underinsured motorist coverage as well as $1 million in commercial auto insurance. The difference between the two is that, in Period 2, Uber provides $50,000 for bodily injury coverage when the app is on but the driver has not accepted the ride. 

Remember: Uber has a reputation for doing everything they can to shortchange accident victims, even denying liability. We do everything in our power to keep that from happening to you. 
Can I Sue Uber for My Accident?
In the past, Uber accident victims have tried to sue Uber directly when they were injured in accidents involving reckless and/or negligent rideshare drivers. However, Uber simply says they're independent contractors, not employees. But, since California Assembly Bill 5 passed, that is now "up in the air." The best course of action you can take is to reach out to an Uber accident attorney knowledgeable in such matters to help you to find exactly who to sue. 
Determining liability in Uber vehicular accidents is similar to determining liability in other vehicular accidents. Your best course of action could be to file a claim if you were injured in a rideshare accident while the app was on and your injuries were a direct result of the driver's recklessness and/or negligence. 
In California, the legal standard for negligence includes if the defendant owed the plaintiff (you) a duty of care, if the defendant breached that duty through their negligence, and if the defendant's negligence was the primary cause of your injuries. Examples of negligence include driving under the influence, texting while driving, excessive speeds, violating traffic laws, or even simply not paying attention. We have helped so many in your exact position to prove rideshare drivers were negligent and caused injuries to people just like you. 
How Much is an Uber Accident Worth?
The worth of your accident is dependent upon multiple factors. The severity of your injury, the effect on your earning capacity, how much pain and suffering you went through, how long it will take you to recover as well as how much you'll be able to, the medical care you may need both immediately in addition to in the future, and so forth. 
Those are your "economic damages." They can be calculated. Under California law, you can recover compensation for economic as well as non-economic damages. The former could cover any medical care you needed on account of the accident, including everything from an ambulance to rehab, surgery, and even physical therapy moving forward. 
You can also receive economic damages for lost earnings if you're unable to work your job. In fact, you may be able to receive compensation for your reduced earning capacity, if you can't work your job as you did before. 
Your non-economic damages include intangibles, such as your pain and suffering, negative life changes you've had to make on account of the accident, an inability to engage in activities you used to enjoy emotional trauma and distress, losses related to disability, physical impairment (even permanent disfigurement) and possibly even a loss of enjoying your life. We represent our clients aggressively so that they can receive the maximum compensation for everything that they've been through. 
How Long Should I Wait to File My Uber Claim?
In California, you have two years from the date of your rideshare accident to file a claim. However, if a state/municipal/federal vehicle were involved in your accident (in any capacity) then you have six months from the date of the accident to file a personal injury claim. The sooner you reach out to a lawyer that can help, the sooner you can get the compensation you deserve. 
Hiring an Uber Accident Attorney Can Make a Difference
Uber can be a convenient, safe way for you to get around Southern California. However, when you're in an accident involving one of these, you very well may be eligible for compensation. You deserve to have an attorney experienced with rideshare accident cases, who knows how to take on the insurance companies on your behalf. 
As an Uber accident attorney, Belal Hamideh Law has helped so many people like you who just wanted a quick ride yet were involved in an accident. You don't pay unless we win. You deserve to be compensated for everything that you've had to go through. To schedule a free consultation with an Uber accident attorney, call (562) 526-1224.