Taking a bus is a fantastic option. Unlike riding a cab, a bus ride can be inexpensive, efficient, and dependable. Generally, buses are safe. But accidents can still happen. If you sustained injury from a bus accident, consider seeking the assistance of a skilled bus accident lawyer. You can have broken bones or sustain head trauma. Spinal cord injury is also possible. These types of injuries, unfortunately, result in long-term disabilities, emotional trauma, and financial hardships, many times.
Our Bus Accident Lawyer in Helping You Understand Your Legal Rights
You have legal rights and options after a bus accident. The only way to know all of them is to consult accident lawyers. They can guide you through the claims process and fight for the compensation you deserve. This compensation can cover medical expenses, lost wages, pain and suffering, and other damages.
What Can a Lawyer Do for Your Case?
One of the vital things your lawyer can do for you is to investigate the circumstances. Bus companies have a legal obligation to maintain their vehicles in perfect condition. They must ensure that their drivers are properly trained and licensed. If a bus company or driver fails to meet this obligation and their negligence leads to you being hurt, then you may have a valid claim for compensation. 
Establishing Negligence and Liability in Bus Accident Case
The only way to open this case is to consult with an accident attorney. They will negotiate with insurance companies on your behalf. If you hire Belal Hamideh, he will fight for a fair settlement. In that case, you will receive the aid that you need. On the other hand, if a settlement cannot be achieved, he can take your case to court.
The Uniqueness of Bus Accidents
Buses do not have seatbelts. Thus, you and the passengers are exposed to danger. You are likely to suffer severe injuries even if it is just a minor accident. In some cases, you may even be thrown from the bus. And if you need to pursue a claim, you have to file it against the bus company and the bus driver. Indeed, the bus company is responsible for the actions of the driver. However, there are cases where this is not the case. That's why it is pertinent that you consult with an attorney who will investigate the accident to know who should be held accountable. Is it the driver or the bus company?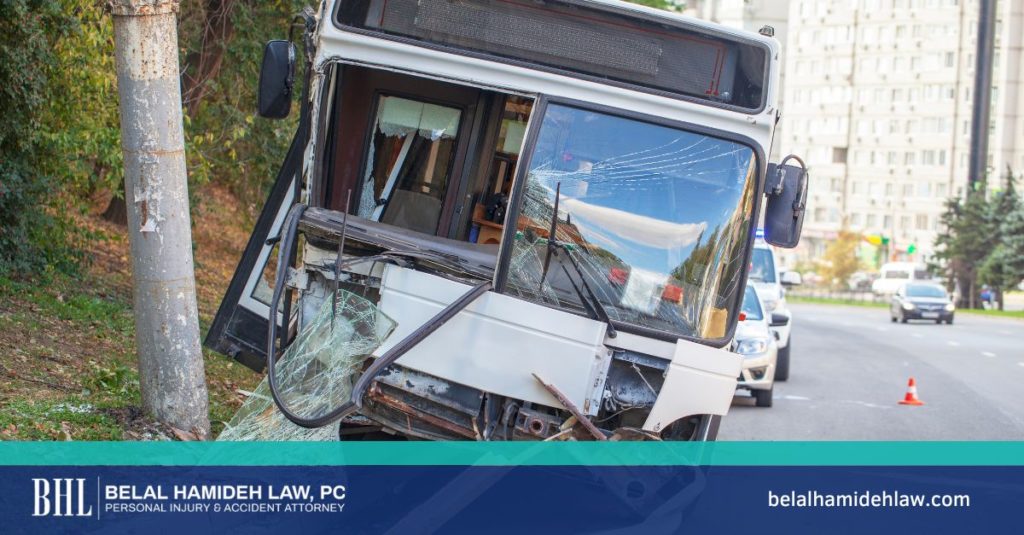 Are You Entitled to Compensation? 
If you have been injured in a bus accident, you may receive compensation for your injuries, lost wages, and other losses. Our Bus accident lawyer can provide emotional support and guidance during this difficult time. Belal Hamideh Law Firm has handled this kind of case many times. We can answer your questions, address your concerns, and help you understand the legal process. Schedule a consultation with us to help you navigate the complex legal system.