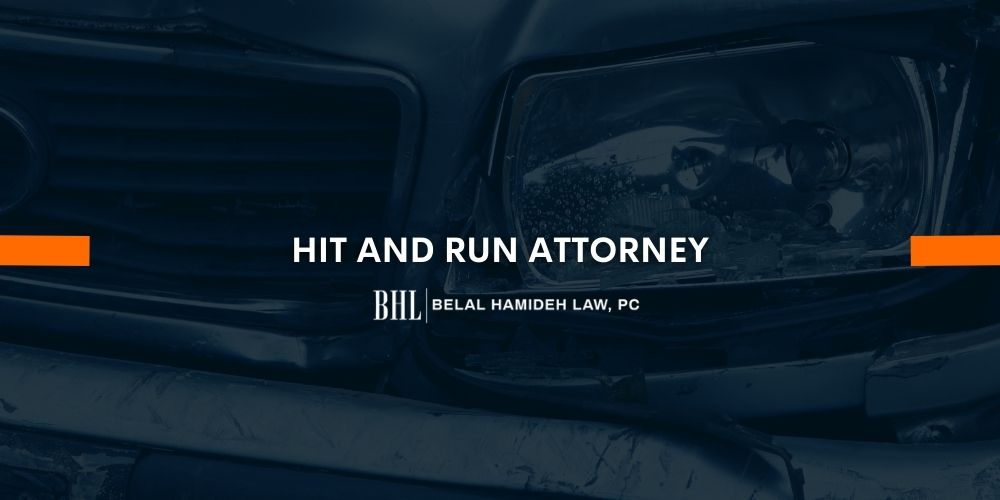 Were you injured in an accident and the other party fled the scene? Have you or someone you love been hurt in a crash with a driver who did not stay and exchange information with you? If that's the case, then you have been a victim of a hit and run accident. This is a crime. Additionally, you may be eligible for compensation. If so, experienced hit and run accident attorney Belal Hamideh may be able to help. 
Depending on your situation, you may be able to receive significant compensation if you were hurt in a hit and run accident. During a free case evaluation with Belal, he can draw upon his years of experience to tell you exactly what your case may be worth as well as how he and the rest of the team here can help. Hablamos Espanol. 
What Should I Do After a Hit and Run? 
First, get to safety. Remove yourself and any others from harm's way. Do so to the extent that you're able without putting yourself at risk of further injury. 
Assess your injuries as well as those of others involved. 
As much as you can, try to gather information about the fleeing vehicle. Getting a picture of the other vehicle can be invaluable. Remembering its license plate would be greatly beneficial. That said, that may be impossible. As such, anything you can remember can help: distinguishing features. The make of the vehicle, its model, even its color, and so forth. 
In any kind of vehicular accident, we always recommend talking to any potential witnesses, getting their contact information, and so forth. That's especially crucial in a hit and run accident. The more you can talk to and learn from any witnesses, the better. 
Call 911. Tell the police everything you know about the other vehicle. A police report can always be beneficial to any vehicular accident case. That holds true with a hit and run. 
Be sure to get medical attention. Do so even if it doesn't seem as if you were injured. Many of the worst injuries do not let the full extent of their damage be known until long after the accident. The sooner you receive medical attention, the sooner you can be treated and heal properly. 
Contact your insurance provider. Tell them what happened. Do so without embellishment. 
After all of that, contact Belal for a free case evaluation. There, you can definitively know how much your claim is worth as well as what you can expect. 
What Compensation Can I Claim if I've Been a Victim of a Hit and Run? 
You have the right to pursue a personal injury claim against an at-fault hit and run driver to receive compensation. Specifically, you can recover economic as well as non-economic compensation. 
Economic compensation covers bills you may be facing on account of having been injured in the accident. Medical bills, medications, rehab, treatments, doctor's visits, and similar costs are economic damages. These can also include any wages you lost due to not being able to work your job as a result of the injury among others. 
Noneconomic damages are for your pain, your suffering, and other losses that can't necessarily be quantified. Your loss of enjoyment of life, hobbies that you enjoyed, consortium, and so forth – those are all noneconomic damages.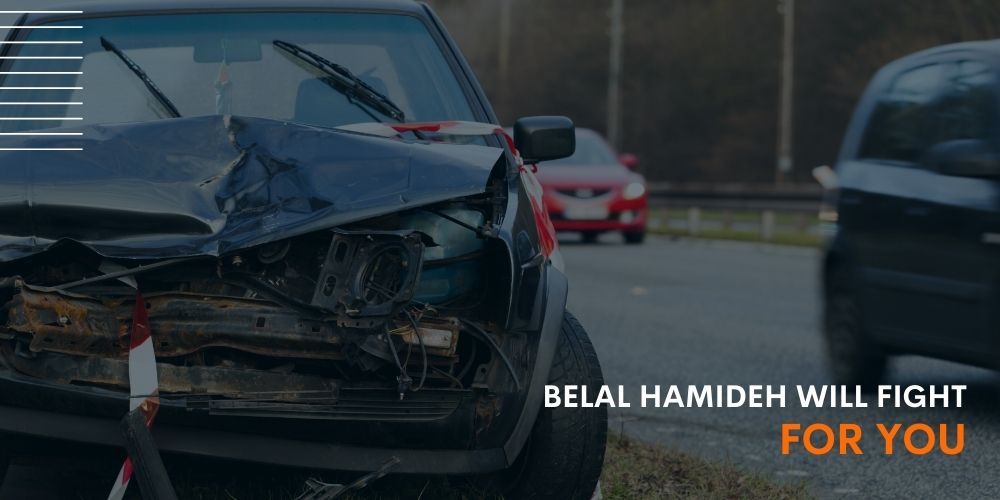 There are many factors that go into determining the compensation of a hit and run accident case. One important factor: the ability of the driver who hit you and ran to be able to pay damages. If they don't have insurance (or enough insurance), or alternatively, are never identified, then it could be more of a challenge, but we are always here for our clients. 
We represent you as aggressively as possible. That way, you have the best possible chance of recovering all of the compensation you deserve. 
What is a Hit and Run Exactly? 
In California, a hit and run accident is essentially when a driver is involved in an accident and then leaves the scene of the action without ever identifying themselves or, in the case of an injury, helping the injured party. 
The California Vehicle Code is very clear about this. If you're in a vehicle accident in California, you must stop immediately. Then, exchange information with the other party in the accident. This information includes your contact information as well as your insurance information. 
In terms of criminal penalties, a misdemeanor hit and run is when there's only property damage. Felony hit and run is when there's an injury. 
If you believe that you were injured in a vehicular accident, whether a hit and run or otherwise, it's worth reaching out to an experienced attorney. That way, you know the truth about whether or not you have a case. 
Why Do People Hit and Run? 
At first glance, it might seem surprising that anyone ever is in a vehicular accident and flees the scene. However, it's far more common than most people think. Often, someone flees the scene of an accident because they're afraid they will face multiple charges. 
For example, perhaps they were driving under the influence during the accident, maybe they were speeding, perhaps they don't have insurance, maybe they were in a stolen vehicle, or something similar. 
Is There Any Way to Protect Myself from a Hit and Run? 
Even the best, most conscientious driver is at risk of being in an accident. No matter how safely and defensively you drive, someone else could always crash into you. The only real way you can "protect" yourself in the event of a hit and run is to take steps to protect your finances ahead of time. You can do so by carrying uninsured motorist insurance. 
Studies have said that somewhere around ? of California drivers don't have auto insurance. That's illegal but drivers do it anyway. So, if they're in an accident, they have to pay for all of the damage to the vehicle with no insurance to help defray the costs. As such, this makes uninsured (or underinsured) motorists all that much more likely to hit and run. 
Even if these drivers are identified, it may still be a challenge for you to recover all of the damage that you should receive. However, by carrying uninsured motorist insurance, we can help you to receive maximum compensation. 
How Long Do I Have to File a Hit and Run Case? 
From the date of the accident, you have two years to file. This is a shorter period of time than many realize. It's very easy to get into the habit of "I'll file it tomorrow," "I'll deal with it then," etc. The sooner you file in one of these cases, the sooner you can potentially receive the compensation that you deserve. 
Additionally, the sooner you reach out to us, the sooner we can begin an investigation on your behalf. These cases can involve reaching out to multiple witnesses, negotiating with insurance companies, and much more. From the moment we take your case, we get right to work on your investigation, putting together the best, most compelling case on your behalf. 
Experienced Hit and Run Attorney Belal Hamideh 
Any vehicular accident can be devastating. Hit and run accidents can be some of the worst. When the other party flees it can make a difficult situation that much more challenging. However, Belal and the team are here to help. From the initial consultation through the successful completion, we can guide you through the process, every step of the way. 
For everything that you've had to go through as a result of a hit and run accident, you deserve maximum compensation. Schedule a free case evaluation with an experienced hit and run lawyer today by either completing the contact form on our site or calling.