Have you been in an accident involving Lyft? Were you a passenger in a Lyft that was in an accident? Or, alternatively, were you driving for Lyft when your vehicle crashed? You may be eligible for compensation if you were driving, riding, or even a pedestrian. Belal Hamideh, a Lyft accident lawyer, has helped many who were in an accident involving Lyft to receive your due compensation. 
Lyft is one of the most popular rideshares for a variety of reasons, used by thousands (if not more) on a daily basis. Yet, even the most conscientious Lyft drivers can suffer an accident. The injuries from a Lyft accident could make it difficult (if not impossible) for you to work, could lead to exorbitant medical bills, a lengthy rehabilitation period, and worse. With years of experience with these cases, Belal Hamideh and his team can help you to receive compensation for all of that and more. 
What Should I Do if I'm in a Lyft and in an Accident? 
Your Priority: Your Safety. 
Optimistically, your driver will be able to move the vehicle to where it's safe from further harm. Tell them to do so if necessary. Should you be able to do so (and it won't put you back into the path of harm), assess your injuries. If you can, do the same for others. 
911 
Do this no matter what. You very well might be in shock and not know it, so seeking medical attention is necessary. Ask for an ambulance if any injuries seem the least bit serious. To help your case, file a police report when the police arrive. This will help tremendously in proving your case. 
Document Evidence if You Can, Safely. 
An accident involving Lyft is like any other kind of car accident: you're going to want to get the other driver's info. That means their name, their insurance, and their license. Don't admit fault, don't say you're sorry, or anything like that. This is a brief, short, and to the point conversation. 
If you can, get the information of others who were involved in the accident, be they drivers, passengers, or witnesses. 
Take pictures. Take pictures of the vehicles, the damage done, your injuries, any other injuries, and be sure to take pictures of the environment, too (if you can do so). 
Contact an Attorney 
These cases can be complicated, yes, but you may deserve compensation for all that you've gone through. An attorney familiar with Lyft cases can aggressively represent you for the most positive outcome. 
What Should I Do If I'm Injured in an Accident and I'm a Lyft Driver? 
Unfortunately, as California Assembly Bill 5 and other actions have shown, Lyft does not prioritize their drivers (to say the very least). They will do everything they can to make sure you receive little to no compensation so that they can avoid as much financial responsibility as possible. This is why it's so important to contact an attorney who has experience in dealing with Lyft. 
Contacting an experienced attorney, in fact, should be your first course of action after following all of the steps above. 
What Should I Do if I'm Hit by a Lyft Vehicle? 
First, safety is always what's most important. Follow the steps above to get to safety, get the information of the Lyft driver, contact the authorities, and so forth. If you've been hit by a Lyft, then you have all of the same rights as a Lyft passenger whose vehicle crashed. 
We cannot stress enough how important it is to receive medical care, even if your injuries seem minor at most. Too often, injuries worsen over time without proper medical treatment. Once you've received medical care, then reach out to an experienced attorney. 
Is it Possible to Sue Lyft for My Accident? 
Unfortunately, as of this writing, that is unclear and unlikely. Yes, in the recent past, victims of Lyft accidents sued Lyft directly. After all, Lyft had hired these drivers who operated their vehicles with recklessness and/or negligence. Since the passing of California Assembly Bill 5, Lyft can say that these drivers aren't employees, rather, they're independent contractors. 
This is one more reason that it's so important to reach out to an attorney who's experienced with these kinds of cases. The determination of liability in a Lyft accident case is, in many ways, similar to doing so in other kinds of car accidents. Many of these cases we see, where this is the correct course of action, involve a victim who was injured in an accident that was caused by the driver's negligence and/or recklessness while the driver had the Lyft app on at the moment of the accident. 
The legal standard for negligence in California is that the defendant has to owe you, the plaintiff, a duty of care, the defendant has to have breached that duty through their recklessness and/or negligence, and the primary cause of the injuries you suffered was the defendant's recklessness and/or negligence. That negligence and/or recklessness could be speeding, texting while at the wheel, operating the vehicle while under the influence, not paying attention to the road, being in violation of the rules of the road, and much more. 
It can be daunting, dealing with a Lyft accident. We can be by your side through the entire process so that you'll have someone who's helped so many who are in the same position you are in right now.
How Lyft's Policy and Liability Insurance Works 
The policy for drivers that Lyft uses is dependent on if the driver was in Period 1, Period 2, Period 3, or "Offline," which means that they weren't logged into the app. No matter what happened in your accident, however, keep in mind that Lyft will, most likely, try to shortchange any accident victims, up to and including denying liability. Belal and his team can work to make sure that doesn't happen. 
Offline. 
If the driver is not logged into Lyft when the accident occurs, then the accident is covered by the driver's personal insurance. 
Period 1. 
During this period, the Lyft driver is logged into the Lyft app. But, crucially, they have yet to accept a ride. The insurance policy limits for this period are $100,000 of bodily injury liability coverage per accident, $50,000 of bodily injury liability coverage per person injured in an accident, and $30,000 of property damage liability coverage per accident. 
Periods 2 and 3
Period 2 in Lyft is when the driver accepts a ride and Period 3 is when the driver picks up a passenger. During these periods, Lyft's limits are $1 million in uninsured/underinsured motorist coverage and $1 million in commercial auto insurance. One significant difference to keep in mind: Lyft, in Period 2, provides $50,000 for bodily injury coverage as well. 
When Should I File My Lyft Claim? 
Essentially, the sooner the better. Reaching out to a lawyer earlier versus later gives you the best chance to receive the compensation you deserve all that much faster. The state of California gives you two years from the date of the accident to file a claim. You have six months to do so, however, if a federal/state/municipal vehicle was involved in the accident in any capacity. 
What is the Worth of My Lyft Accident? 
Multiple factors determine this. No two accidents are the same. There are economic damages and non-economic damages. You can cover compensation for both under California law. 
The most prominent factors determining your economic damages include how much medical care you need, both in the wake of the accident as well as in the future, how severe your injury was, the pain and suffering you've had to deal with, the length of your recovery time, how much you can recover period, how your earning capacity was negatively affected, and much more. 
Non-economic damages, on the other hand, include your pain, your suffering, any disability you may have suffered, emotional trauma, distress, not being able to engage in activities you had enjoyed, negative life changes you've made because of the accident, physical injuries or even permanent disfigurement. 
If you've been injured in a Lyft accident through someone else's actions, you deserve to be compensated fairly. We represent our clients aggressively to make that happen.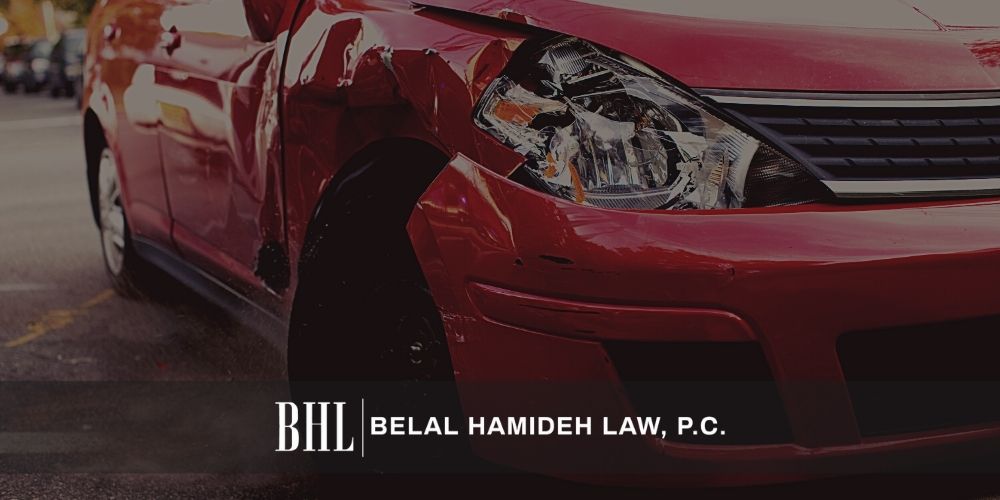 A Lyft Accident Lawyer Who Can Help 
Lyft is a great way to get around, but the injuries can be devastating. You shouldn't have to take on the insurance companies alone. We can be by your side throughout the process. 
Belal Hamideh Law and his Lyft accident lawyer team have helped so many who have been injured. As we work on contingency, you don't have to pay unless we win. To schedule a free consultation with Belal and his team, message us through the site or call (844) 245-2995.