If you've been injured on the job, you're probably wondering what your next steps should be. In this blog post, you'll learn how a workers' compensation lawyer in Long Beach can help you to protect your rights and what you should do if you've been injured on the job. From filing a claim to getting the benefits you deserve, this post will help you understand the process and what to expect. The most important thing you can do is seek out medical attention, but you should also know that you have legal rights and options available to you.
It's crucial that you choose the best workers' compensation lawyer to help you navigate the ensuing litigation as a result. Belal Hamideh is a qualified candidate to represent you as he possesses the requisite expertise to handle your case. You can call him at (562) 526-1224 to find out more about how he can assist you or to arrange a free appointment. With his assistance, obtaining the proper accident compensation may be well within your grasp.
What Is Workers' Compensation?
These statutorily mandated awards permit the injured worker to receive compensation without bringing legal action against the employer. The types of workers covered, the amount and length of benefits and other details vary between the various state acts.
Most workers' compensation laws have the effect of holding the employer strictly liable for injuries sustained while on the job, regardless of whether the employer or the employee was negligent. For a claim to be legitimate, the injury must occur during the course and scope of employment, and there must be a relationship between the employee and the employer.
What Are Your Rights Under Workers' Compensation?
If you are injured at work, you may be entitled to workers' compensation. Workers' compensation is a system of insurance that provides benefits to employees who are injured or disabled due to their job.
There are several different benefits that you may be entitled to under workers' compensation, including medical benefits, income benefits, and death benefits. Each state has its own workers' compensation laws, so be sure to take that into account if you're outside the Long Beach area.
After suffering from an injury at work, it is important that you report the accident to your employer as soon as possible. You will then need to file a workers' compensation claim with your state's workers' compensation office. Once your claim is filed, an investigation will be conducted to determine whether or not you are eligible for benefits. 
What Should You Do If You Are Injured at Work?
If you are injured at work, the most important and first thing you should do is seek medical attention. Once you have received treatment for your injuries, you should seek the help of a workers' compensation lawyer. You may be entitled to workers' compensation benefits, which can help you cover the cost of your medical treatment and lost wages.
Depending on the situation and your employer's response, you may also be able to file a personal injury lawsuit against your employer. If you are successful in your lawsuit, you could recover even more compensation for your injuries.
If you have been injured at work, it is important to seek legal advice to ensure that you are getting the full compensation that you deserve.
How Can A Workers' Compensation Lawyer Help You?
The health of our clients is our first priority. To ensure that justice is served and that you obtain the maximum compensation, our Long Beach personal injury attorney will use every legal strategy available to take on insurance companies. No matter how little or severe your injuries are, you need to receive the necessary medical care. Some wounds may endure for a long time or even damage you for the rest of your life.
We get how tense it might be to expect legal news. At any stage of your case, we'll keep you updated on every move. You can feel at ease throughout the entire process knowing that our Long Beach personal injury attorney is always willing to respond to your inquiries. Hard work and dedication to our clients are what set this office apart from others. We are more concerned with the peace of mind for you and your family than with how much money we will make from your case.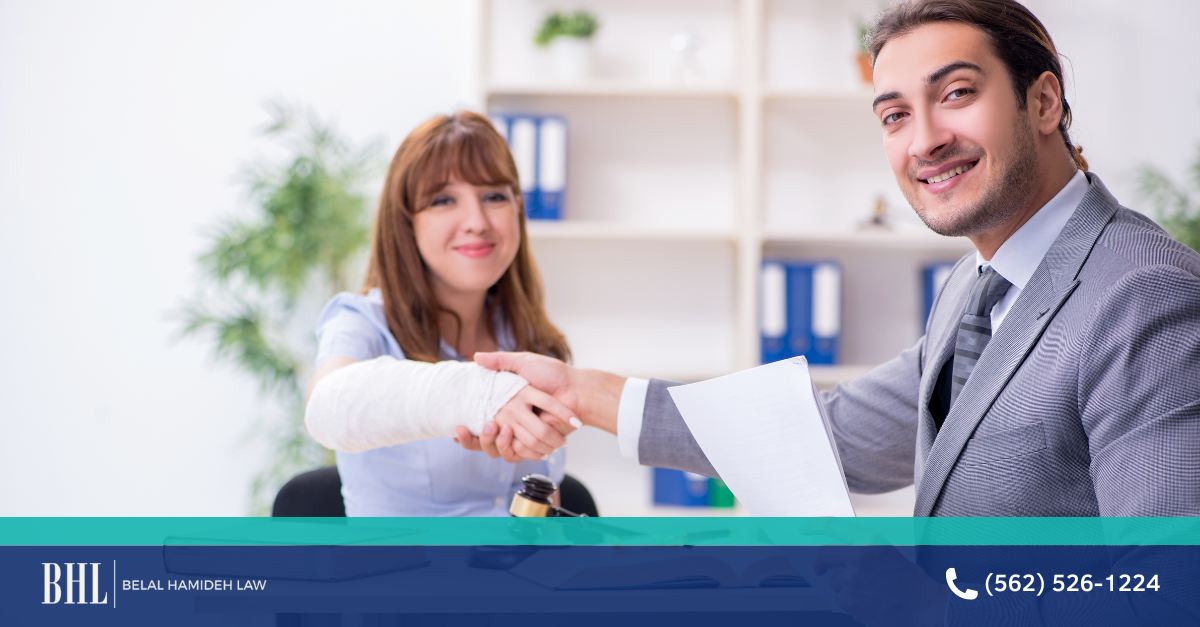 Every Case Of Personal Injury Is Important To Us.
Our Long Beach injury lawyer can handle any type of injury. No matter how severe the damage, he is aware of how it may affect your life and how every injury case is handled. Every injury demands competent medical care and a thorough legal evaluation. Belal Hamideh is uniquely qualified to handle your particular case since, unlike other attorneys, he specializes in accident claims. Different injuries require different types of treatment, so it's critical that you understand what kind of medical care you require in order to receive full compensation.