Millions of people have used talcum powder to absorb moisture and lessen irritability. Despite being a common household item in many American homes for many years, talcum powder may be responsible for thousands of incidences of ovarian cancer, according to new studies. If you or a loved one has developed ovarian cancer after continued use of talcum powder products, contact our expert lawyer who will fight for justice while you seek compensation in a talcum powder lawsuit. 
In a class action lawsuit, one person or a group of people may bring a claim on behalf of other people who have identical problems against an employer in the state of California. Belal Hamideh, a class action lawyer, may assist you in getting the compensation you deserve if your employer violated your rights.
What Is a Talcum Powder Lawsuit?
In a talcum powder lawsuit, the talcum producers are accused of knowing their talc was contaminated with asbestos and might lead to mesothelioma and ovarian cancer but did nothing to alert consumers to the risk. At least four class action lawsuits have been filed, along with many consumer complaints, but the majority of instances are individual actions. 
How Can A Class Action Lawsuit Help?
In this kind of case, numerous parties—including you—claim that the defendant has mistreated them in comparable ways. In many instances, they opt to file a consolidated lawsuit on behalf of all those who were similarly mistreated rather than sue the corporation individually. This is a great way for people to be able to stand against big corporations.
The primary components of a class-action lawsuit are the identification of plaintiffs (or even a single plaintiff) and the presence of numerous plaintiffs who sufficiently represent the interests of the class (or group of individuals). Another crucial factor is that the injuries the plaintiffs allege from a common defendant or group of defendants comprise a common set of facts and an injury and/or cause that is characteristic of the injuries that many members of the plaintiff class suffered.
Is It Worth Starting a Talcum Powder Lawsuit?
As a group, we are stronger. A class action lawsuit would be a very smart idea to start or join if the same firm had wronged thousands of people over a long period of time in different parts of the country. You might all be paid what you are all due.
People can be intimidated by businesses. Anyone who tries to confront them directly may feel intimidated. Corporations cannot do that in a class action, though. Companies cannot just ignore a large group of people seeking justice who are working with an accomplished class action lawyer.
In many ways, a class-action lawsuit is about more than just money. Companies that exploit people like you and put you and your family at risk must be stopped. When handled correctly, large-scale class actions can prevent even the most nefarious corporations from hurting ordinary people like you.
Statute of Limitations for Talcum Powder Lawsuits
Talcum powder lawsuits fall under the category of product liability issues, and each state has a separate statute of limitations. These statutes typically last between two and ten years. Approximately two years is the average length of state statutes.
Depending on the circumstances, the clock may begin to run from the day you learned talcum powder may have contributed to your cancer or from the day you received the cancer diagnosis.
Occasionally, family members who have lost a loved one to ovarian cancer or mesothelioma may bring a wrongful death lawsuit. These limit periods are shorter; the majority often last two years. You can get assistance from a lawyer in figuring out the appropriate time window for each state. To maintain your ability to pursue a lawsuit, speak with a talcum powder lawyer straight away.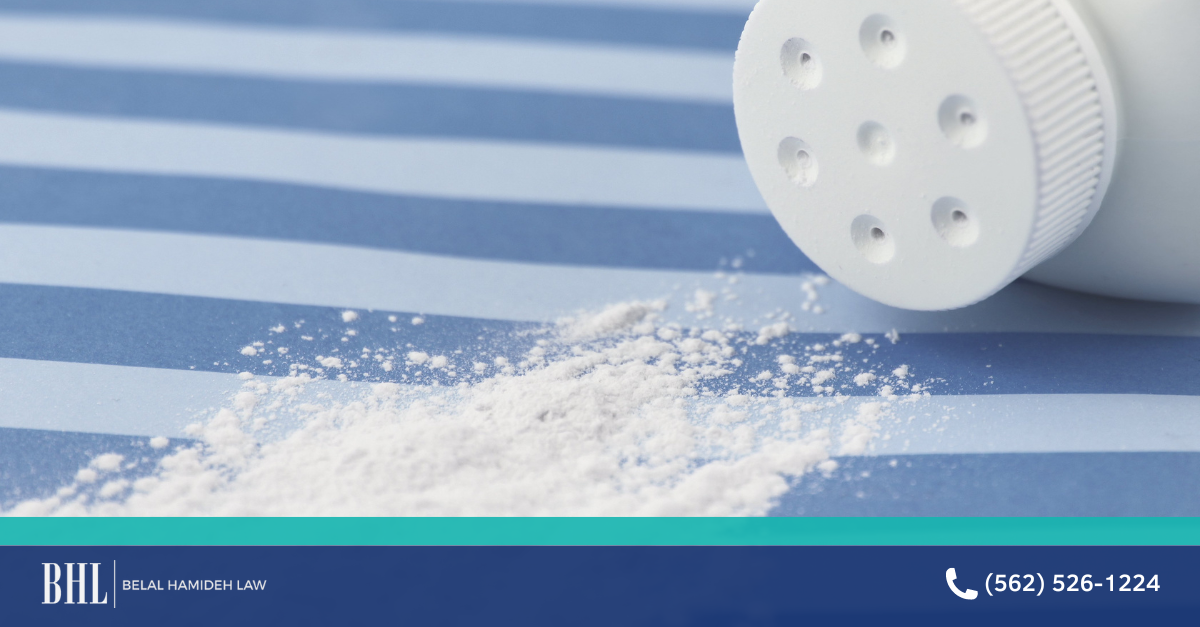 Obtain The Compensation You Need
If you were misguided by a talcum powder company, whether you were a worker, customer, employee, or in some other way, you may deserve compensation. Just like you, there may be many others like you out there, looking for a way to seek justice against a corporation or other business entity that did them wrong.
You may be eligible to launch a talcum powder lawsuit if you were between the ages of 22 and 65 when you received a diagnosis of mesothelioma or ovarian cancer any time after 2000. However, due to the complex product liability regulations and medical data needed to support your case, not just any lawyer can handle this type of personal injury case. We can help. Our class action lawyers specialize in representing those who have been hurt by these businesses and helping our clients get all of the compensation they deserve. For a free consultation, call us at (562) 526-1224.