Speaking to a slip and fall lawyer professional is the first thing you should do before negotiating any terms with an insurance company. Speaking to a lawyer will keep you safe from accepting an agreement where you waive your rights for seeking further compensation.
Why You Need to Discuss Your Case with a Slip and Fall Lawyer California Professional
Discussing your slip-and-fall with a lawyer for fall and slip settlements before you take further action is important, as you need a legal advocate on your side. Insurance companies are in the business of making money, not in paying out claims for slip-and-fall accidents. 
If you don't speak to an attorney, you may find yourself feeling forced to settle a claim that will not meet your expenses for current and future medical care. In addition, insurance coverage does not extend to claimants who suffer pain and suffering.
The Average Slip-and-Fall Settlement Claim in California
According to the California Business Journal, the average amount awarded in slip-and-fall claims ranges between $15,000 and $50,000, depending on the factors of the lawsuit. What you receive in damages depends on your injuries and their severity. For more severe injuries, naturally, the settlement amount is higher.
A lawyer for fall and slip lawsuits normally requests coverage for financial losses attributed to the mishap. These include medical expenses, including treatments and prescriptions, and the money you have not earned because of your injuries.
Damages for pain and suffering are harder to figure, out but normally are proportionate to the extent of your injuries or their permanency. In cases of extreme negligence, a judge may reward you with punitive damages.
If you can prove the other party was at fault, your settlement may be sizable. California considers a slip-and-fall under the category of premises liability. To recover a settlement then, you must show that another party's negligence led to your accident.
Where Slip-and-Falls Happen
Slip-and-falls happen frequently, and in several types of venues, because a site is not well-maintained or the victim does not receive reasonable support, which leads to an injury. Therefore, the amount of your slip-and-fall settlement will also hinge on the location of the accident and the severity of the hazard.
Accidents at Nursing Homes and Hospitals
Slip-and-falls often take place in nursing homes and hospitals, as people who are sick or weak may not receive adequate assistance during transport or walking. In turn, they may fall and hurt themselves.
Falls from Heights at  Construction Sites
Falls often occur from heights at construction sites. The Bureau of Labor Statistics (BLS) reports that non-fatal falls to a lower level occurred at a rate of 15.7 for 2020. 
Overall, in the private construction field, nonfatal illnesses and injuries that developed from falls, slips, and trips occurred 31.4 per 10,000 full-time workers during 2020. 
Sidewalks and Walkways
Sidewalks may develop uneven surfaces, which leads to broken pavement, cracks, and slants in the concrete. Slippery pavement can also lead to accidents. Property owners are obligated to maintain walkways to prevent slips, trips, or falling.
Steps and Stairways
In some cases, a stairway's design may lead to a serious injury. For example, if the steps are too narrow or steep, they can cause problems with navigation. Other issues, such as broken railings, can cause problems with balance when going up or down stairs.
Public and Private Decks
A deck's finish may also turn into a slip-and-fall hazard. If the floorboards have decayed or they have become uneven, they can lead to slip-and-fall injuries.
Asphalt and Concrete Parking Lots
Slip-and-falls often occur in parking lots due to uneven pavement or poor lighting at night. In addition, cracks may develop over time. When the pavement is not repaired regularly, it is easy for someone to trip and get injured.
Escalators and Elevators
If an elevator door shuts too fast, it may lead to someone falling. Also, any sudden jolt during a trip on an elevator may throw a person off-balance. Escalator injuries may also be severe if a person's clothing gets entangled in the moving stair.
Bars and Restaurants
Slipping and falling occur frequently in bars and restaurants because they often are crowded, all of which can pose a danger to visitors. Not only can crowding be a problem, but so can the tables and chairs. It's easy to lose your balance if you have to navigate around these items. Also, a spilled drink can lead to an injury. 
Gas Stations and Convenience Stores
You can also slip and fall when getting gas for your car. Water and gas spills may go unnoticed until it's too late.
Shopping Mall Locations
Slick floors at shopping malls may prove to be a hazard as can product displays from pop-up shops lining walkways.
Sports Facilities and Sporting Events
When you visit a sports facility to attend a sporting event, you often have to climb steps to get to your seat. Some fans may attempt to climb over seats if the place is crowded. Also, some fans may not pay attention to where they're going if they are distracted by gameplay. 
Movie and Concert Theaters
Going to a movie or concert may also lead to slipping and falling. If you're searching for your seat in the dark, you can easily get injured. Soda spills may also lead to someone stumbling and getting hurt.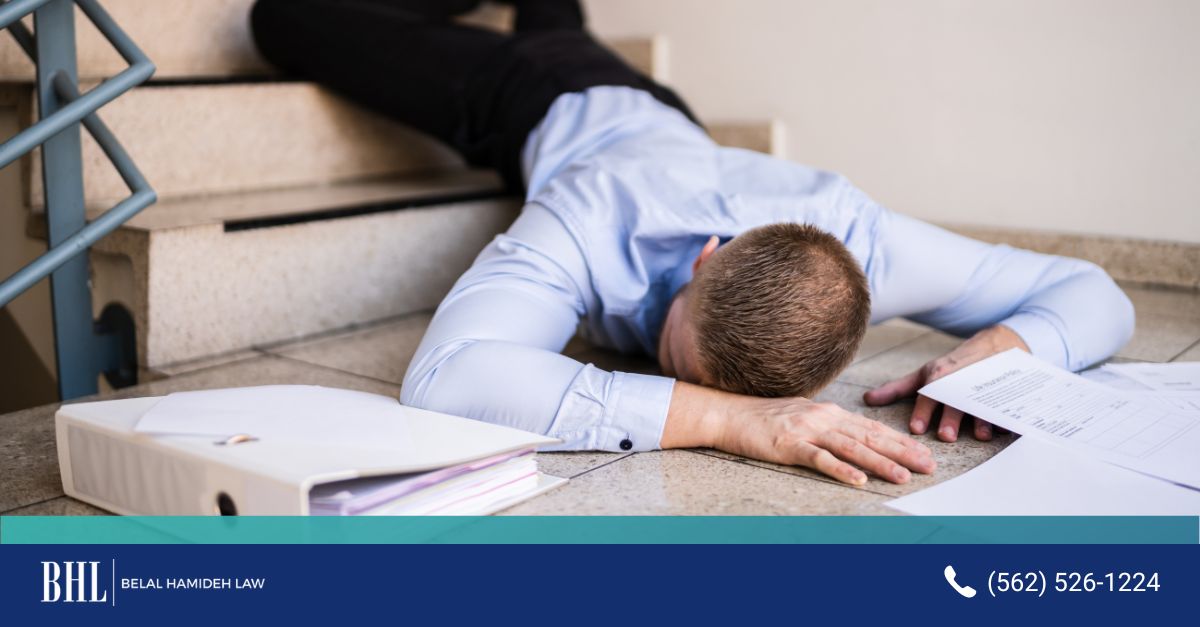 Contact a Slip and Fall Lawyer for a Consultation
If you've been hurt in a slip-and-fall accident, you'll need to call a slip-and-fall lawyer California professional. Begin your discussion as soon as possible, as you only have a limited amount of time to file a lawsuit (2 years). Call Belal Hamideh Law at (562) 526-1224 right away.