If you're thinking about making a slip and fall accident claim, you may be wondering how much compensation you can expect to receive. Most slip and fall cases settle before going to court. There are a number of factors that go into maximizing your compensation. For example, the more evidence you have, the more compensation you're likely to get. Here are some of the factors that will affect the compensation you receive and, ultimately, the chances of making a full recovery. The compensation you receive will be determined by the evidence. This includes evidence of the negligence that caused your slip and fall, as well as evidence of the nature and extent of your injuries. Take photos of the scene and your immediate injuries if you can. It is also important to ask witnesses for their names and contact numbers so your accident attorney in Long Beach can get statements from them.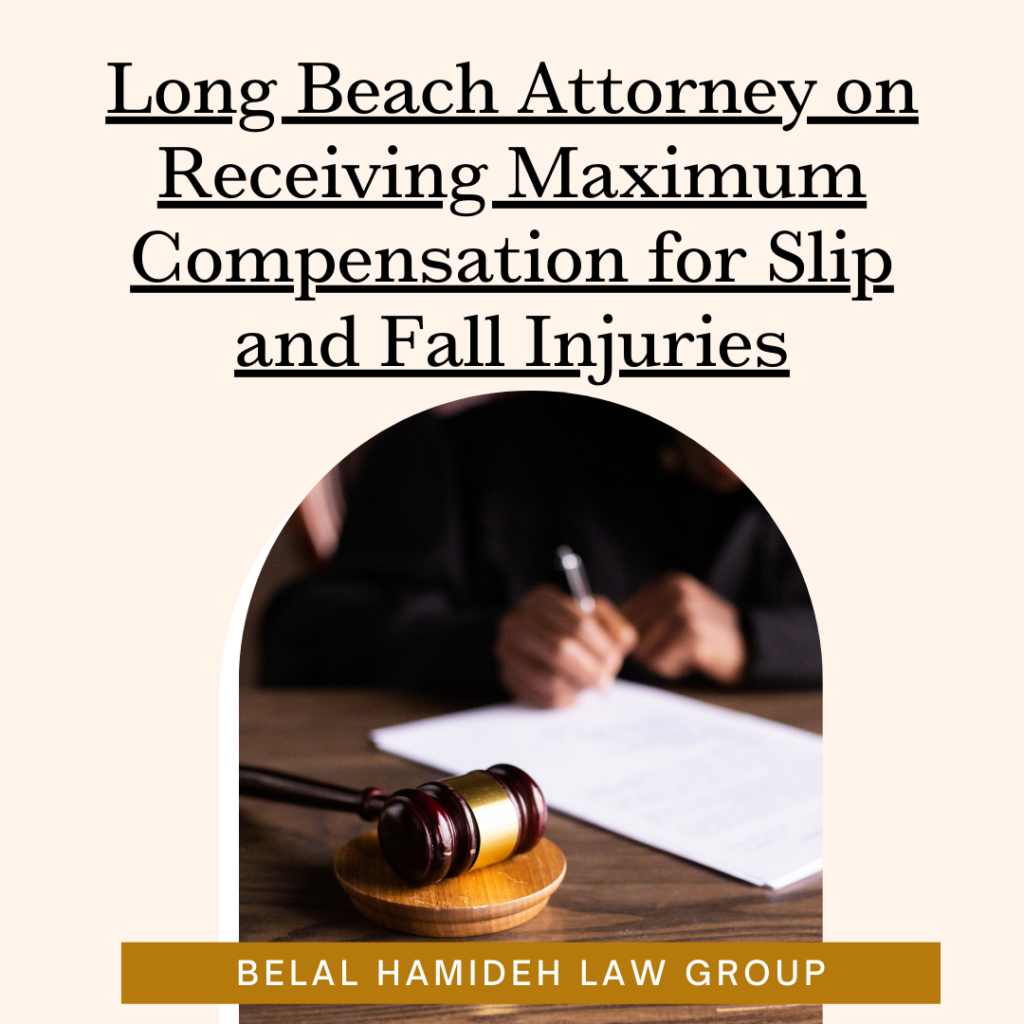 Get medical treatment
It is important to get medical treatment, even if you don't think your injuries are serious. Some consequences of a slip and fall incident only show up days after the event. The doctor will document your injuries and give you a treatment plan that you need to follow. 
Fully value your claim
There are several types of damages you may suffer as a result of your slip and fall accident. If your ability to earn a living is affected by the injury, the value of your compensation will be higher. 
You can also receive compensation for emotional damage and loss of quality of life. For example, if you are an avid tennis player and you can no longer play as a result of the slip and fall incident, your quality of life suffers. 
Choose the right attorney
Accepting the first settlement offer you receive can be a mistake. If you have the evidence and documentation to back up your assertions, your personal injury attorney in Long Beach will be able to explain why the offer is inadequate. If the defendant knows that your attorney is fully prepared to go to trial if necessary to obtain a higher settlement, the case valuation is likely to go up. 
Don't wait to file your case
After you sustain an injury, you have a time limit to bring your case. After the statute of limitations expires, you are no longer able to file. Formally gathering evidence begins when you file and if you do it as early as possible, it can be critical when it comes to preserving the evidence necessary to build your case. It also makes the other party aware that you are serious about receiving fair compensation. 
An attorney can help
Contact Belal Hamideh Law on (562) 526-1224 for a free legal consultation. A qualified Long Beach accident lawyer can help you to maximize your compensation. The firm is committed to its clients and will build your case step by step and fight the insurance company hard to maximize your compensation. You don't have to pay unless the lawyer wins your case so you have nothing to lose.