If you work as a longshoreman in California, you already know about the hazards involved in the job. After all, you play an integral part in the shipping and receiving field. Not only do you load and unload cargo from ships at a port or dock, but you also have to take on this type of work in all types of weather.
Learning More about Longshore Accident Claims
As a dock worker, you're entitled to work-related benefits when you're injured. Therefore, understanding how longshore accident claims work is highly advantageous. The Port of Los Angeles is a major employment hub for longshore workers in California. The port handles an unprecedented number of shipments each year.
Dock workers at the Port of Los Angeles handle a large number of TEUs (twenty equipment units, or 20-foot containers) annually. Loading and unloading include both exports and imports – all of which are sizable.
For instance, 102,767 TEUs were loaded and unloaded for autos during 2021. Also, furniture, auto parts, and apparel made up the major exports while animal feed, paper/waste paper, and soybeans were the top three imports. 
However, injuries for longshore work activity are not confined to unloading and unloading. It also covers numerous maritime jobs under the Longshore and Harbor Workers' Compensation Act (LHWCA), according to the Department of Labor (DOL).
What is the Longshore and Harbor Workers' Compensation Act?
The LHWCA represents a federal law that pays for the medicare and vocational rehab of employees that suffer disability from injuries that occur on the navigable waters of the U.S., or in connecting areas, such as docks or spaces where a vessel is maintained and built. 
The federal law also provides survivor benefits to dependents if a work injury leads to an employee's death. The employer pays for the benefits, or a private insurer does so on the employer's behalf.
Legally, injuries may include occupational illnesses or diseases, such as hearing loss, or mishaps occurring on the job.
The LHWCA protects employees who work in maritime jobs, such as longshore workers, shipbuilders and maintenance workers, and harbor construction laborers. Accidents that occur on U.S. navigable waters, on piers, docks, wharves, and terminals are covered.
Who Is Not Covered Under the LHWCA Legislation
You are not covered if your injuries result from intoxication or your own willful intent to harm yourself or others. If you work for the U.S. government or a foreign government, you're not entitled to compensation. 
Masters or Members of a Crew of a Vessel
The Jones Act (46 U.S.C. § 30104) covers seamen, or masters or members of a crew of a vessel. So, the LHWCA does not apply to any accidents that are filed for these employees. 
Workers Who Receive Coverage Under Workers' Compensation Laws
In addition, the LHWCA excludes employees who are covered by workers' compensation laws, such as the following:
Employees performing office work, security functions, or data processing.

Employees involved in restaurant, museum, retail, camp, or recreational work.

Marina employees who are not involved in construction.

Temporary employees working on the premises of a maritime employer, such as vendors, transporters, or suppliers, who do not perform work typically covered by employees under the act.

Aquaculture employees.

Employees who build recreational vessels under 65 feet long, or repair or dismantle recreational vessels.

Small vessels, under certain conditions, expect Secretary of Labor certification.
All laws that cover workers' compensation follow a specific protocol. Longshore accident claims, under the LHWCA, are no exception. 
Meeting the Deadline
Generally, injured employees, under the Longshore Act, must report an injury to the office that administers the Longshore Act, which is the Office of Worker's Compensation Programs, within 30 days of getting injured.
However, there are noted exceptions to this rule. If your injury does not immediately result in a disability, you need to report the injury within 30 days of its discovery.
The second exception involves occupational diseases or illnesses. In these cases, the employee must report the injury within a year after he or she discovers it or is reasonably aware that it is preventing them from working.
Try to File Your Claim As Soon as Possible
Even though the above exceptions exist, you still should stick to the 30-day deadline, if possible. That's because the law can become complex, so you don't have a guarantee that a judge in the matter will agree that your case is an "exception." 
Also,  by waiting, you cause insurers to doubt your injuries, and therefore, they're more likely to decline your benefits. Moreover, it becomes more difficult to convince the court that you were actually injured or got occupationally sick.
If your employer's workers' comp insurance company begins paying out benefits after your injury, you won't have to do anything more. Your obligation, next, is to get better so you can return to work. 
Filing a Dispute 
If you believe the benefits are insufficient or the insurance company refuses to pay the benefits, you'll need to file a Longshore accident claim. This involves filling out the claim form and requesting to be heard at an informal conference. You'll need to submit the claim to the Office of Workers' Compensation Programs for your area. 
Supporting Your Claim
To support your claim, you'll also need to include your medical records. For instance, if you're submitting a claim for temporary total disability benefits, your medical records must show that you were injured on the day you claim you were injured and that you were totally disabled during the time of your claim for disability.
Usually, this step is just a preliminary step, so you can request a hearing. That's because the claims examiner who presides over the informal conference does not have authority, legally, to ask the insurance company to pay your benefits. He or she can only make a recommendation to begin your coverage.
So, if you're successful in receiving a written recommendation, you'll need to request a hearing. Your longshore accident lawyer will request a hearing, sending a form, again, to the Office of Workers' Compensation Programs, where it is referred to an Administrative Law clerk to schedule a hearing.
Investigating the Claim – Pre-Hearing Discovering
This can get quite involved, as pre-hearing discovery is required, allowing each side in the case to perform an investigation before the case is heard. This type of process is just like the discovery conducted during a regular lawsuit. 
Written questions, called interrogatories, are sent back and forth, and depositions are used during the gathering of evidence. This investigatory period usually lasts several months before the hearing date. 
According to the Legal Information Institute (LII) at Cornell Law School, depositions are sworn witness testimonies that are conducted outside the courtroom. They are adhered to providing information during discovery. The witness that is deposed is called a deponent.
The LHWCA Hearing
If your longshore claim has not been settled, the hearing will be used to decide your case. In these situations, the issues the judge considers include the following:
Whether or not the employee actually suffered a work-related illness or injury

Whether the current  injury is an aggravation of a prior injury that is not related to work, thereby releasing the employer from payment

The weekly pay of the employee

The extent of the claimed disability

The reasonableness of the care for the employee and whether it validates the employee's rights to benefits
Attorney Payments
An employee who files a Longshore Act claim is not required to pay his or her lawyer directly. The attorney receives payment through settling the case. At that time, he or she submits a fee petition to the court for review. If the petition for payment is approved, the court will order the insurance company to pay the attorney's fee.
Why You Need to Talk to an Attorney Now
Have you been injured on the job, which requires that you file a longshore accident claim? If so, you should contact a lawyer first before you do anything, This will prevent any problems with disputes or denials. A lawyer can help speed up the process as well as help you if you run into any problems during the filing process.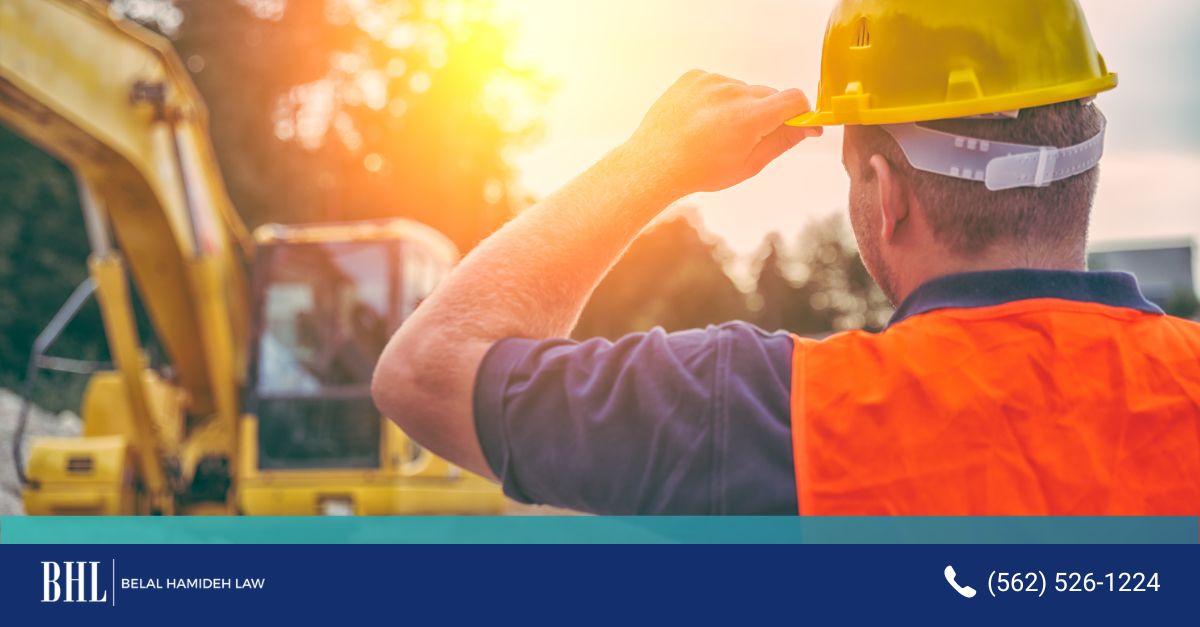 Who to Call in California
To begin your accident claim, start by calling the Belal Hamideh Law Firm at (562) 526-1224 as soon as possible.