Have you been negatively affected by the stench in Carson, California? Were you physically harmed by it? If so, then you may be able to seek damages with the help of an experienced lawyer. This is no mere foul odor. The Carson city council has declared a state of emergency over the smell. It has caused physical illness and worse in residents. When people think of an "accident lawyer in Carson California," they tend to think of someone who deals with vehicular accidents and the like. However, Belal Hamideh can help you if you were harmed by this stench.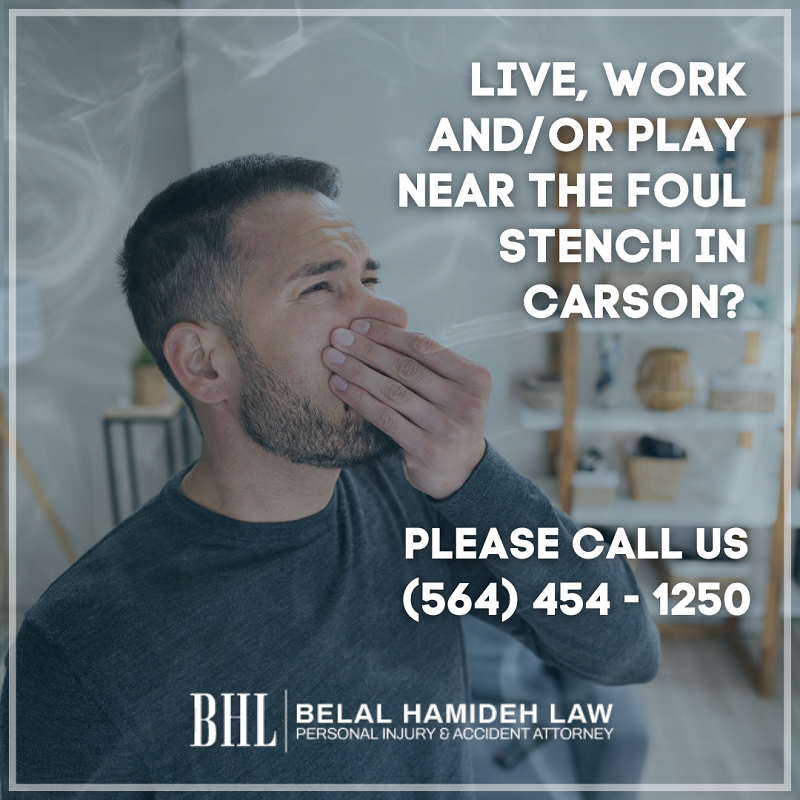 "The Stench of Death" Explained 
That's the name for the odor in Carson from this article. Fortunately, the Los Angeles County Fire Department has stated that the smell is non-lethal. However, you should avoid it at all costs. The Los Angeles County Department of Public Health has recommended that "residents avoid prolonged outdoor activities between the hours of 9 PM and 8 AM" and "reduced exposure whenever odors are strong." The stench is believed to come from "hydrogen sulfide emitted by decaying vegetation in the Dominguez Channel." 
When You May Have a Case 
The Centers for Disease Control and Prevention have stated that "exposure to hydrogen sulfide may cause irritation to the eyes and respiratory system. It can also cause apnea, coma, convulsions, dizziness, headache, weakness, irritability, insomnia; stomach upset." Should you have experienced any of that, you may have a case. Carson residents (and really, just people passing through) have also mentioned severe respiratory problems, rashes, fatigue, and nausea. If that affects your work or other aspects of your life, it's worth reaching out to an attorney.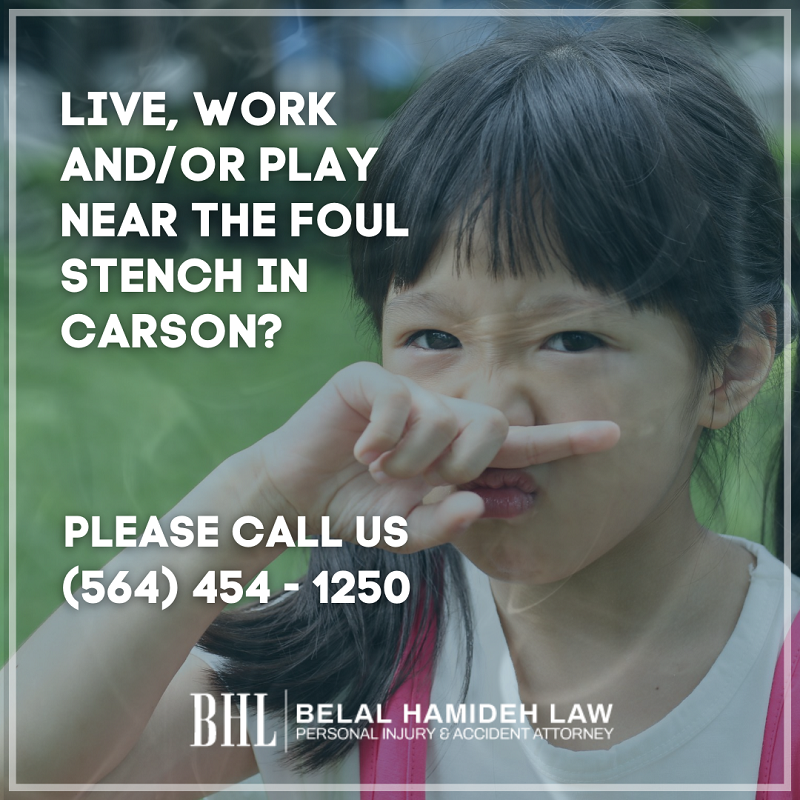 How Belal Hamideh Can Help 
The "Carson Stench" is, in many ways, an "accident." If you were to go shopping at a store, went up a flight of stairs, only for the railing to give way, causing you to fall and be injured, you would be able to receive damages as being in a "slip and fall" accident. The store had a duty of care to make sure that their location was safe. The same applies here. The parties responsible had a duty of care to make sure that the Dominguez Channel never became a health threat. They failed in that. If you were harmed by this, then you very well may have a strong case. 
An Accident Lawyer in Carson California and the Surrounding Area 
Belal Hamideh offers free consultations for those who were harmed by the stench. That said, he's still accepting clients who have been injured on the job, or through the recklessness and negligence of another. When you're dealing with injuries you've suffered due to the Carson Stench or anything else, it can be difficult to take that step to reach out to a lawyer. However, the statute of limitations is not indefinite, and it's always worth it to find out if you have a case. For a free consultation with Belal, call (562) 526-1224.