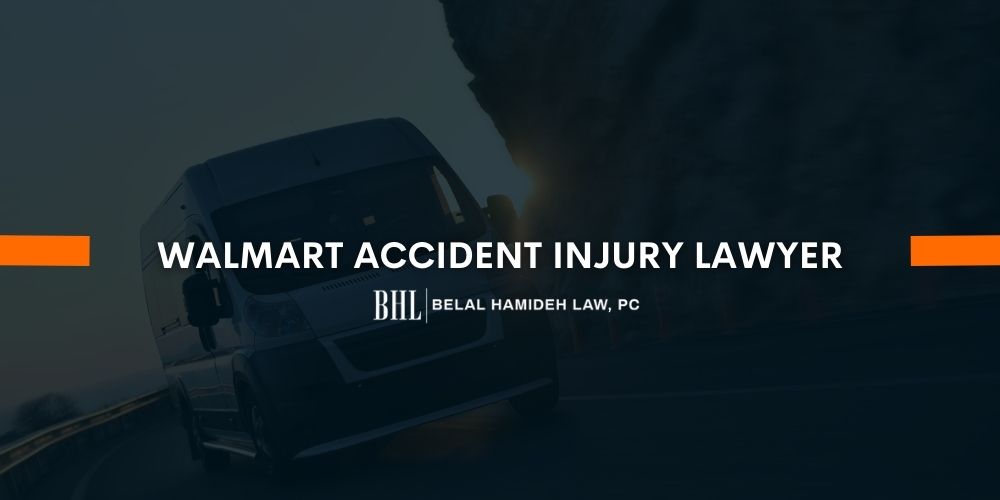 Were you injured in an accident involving a Walmart vehicle? Have you been injured due to a Walmart delivery driver's negligence or recklessness? You didn't ask to be in an accident, so, if you were hurt, you might be entitled to compensation for your ordeal. Belal Hamideh has experience with Walmart accidents. Over the years, he's helped many clients who were in the same position that you are right now. 
Belal and the rest of the team understand that, after an accident, it's possible that the last thing you want to do is to reach out to an attorney. However, working with an experienced attorney is how you give yourself the best possible chance at success. During a free case evaluation, Belal will let you know what your claim is worth and how we can help. Hablamos Espanol.
Can I Bring a Suit Against Walmart for My Accident Injury? 
It's unlikely that you'll be able to bring a suit against Walmart itself. Walmart has a fleet of, as of this writing, more than 55,000 trailers. That's one of the larger ones in the country. Walmart has expanded their delivery operations, putting more and more drivers out on the road. While this can be convenient for some, it has also led to more accidents. 
When you're injured in a vehicular accident involving a Walmart vehicle, they're going to do everything in their power to make sure that you receive as little compensation as possible.  Whether it's Walmart, the driver, or any other party that might be liable, we do everything in our power to make sure that you receive all of the compensation you deserve for everything that you've been through. 
What Kind of Compensation Can I Receive After a Walmart Accident?
After an accident, you may be eligible for compensation in the form of economic and non-economic damages. 
Economic compensation is designed to cover tangible expenses incurred due to the accident, such as medical bills, prescription costs, rehabilitation, and other related expenditures arising from injuries sustained.
This can extend to cover lost wages resulting from the inability to work one's job due to accident-related injuries. If the injuries sustained lead to a prolonged inability to work, victims can seek compensation for future lost wages as well, helping financially during recovery and beyond.
Non-economic damages, on the other hand, account for intangible losses that cannot be precisely quantified but are essential to address the emotional and psychological toll on the victim. These damages encompass pain and suffering, loss of enjoyment of life, and loss of consortium, and more. 
This provides reparation for the overall impact the accident has had on the victim's quality of life.
During a free case evaluation, Belal will assess the specifics of the situation and outline the types of compensation you deserve. Then, Belal will explain how he and the rest of the team can guide you through the legal process, every step of the way.  
What Should I Do After a Walmart Accident?
If you find yourself involved in an accident with a Walmart driver, it is crucial to take immediate steps to both safeguard your well-being and enhance your chances of fair compensation.
Ensure Safety: Your first priority should be to remove yourself from harm's way. If possible, move away from traffic and other potential hazards without exacerbating your injuries.

Assess Injuries and Seek Medical Attention: Evaluate your injuries. It is essential to call 911 and report the accident. Seeking professional medical attention promptly is crucial,  even if they seem minor. Shock can hide the worst of an injury. 

Gather Information: Exchange information with the Walmart driver and any witnesses involved in the accident. Be polite but refrain from admitting fault. Collect relevant evidence by taking photographs and videos of the damages, focusing on vehicles and environmental factors. 

Contact Your Insurance Company: Inform your insurance company about the accident without embellishment. 

Consult Belal for Legal Support: Once you have done everything above, then reach out to Belal for a comprehensive case evaluation. 
Contact an Experienced Walmart Accident Injury Lawyer
It's natural to feel powerless after an accident involving a Walmart driver. After all, taking on corporate giants, insurance companies, and entities like Walmart can be daunting. With a skilled legal team like Belal's by your side, you give yourself the best chance of turning your personal injury into a personal victory. 
Belal and the team operate on a contingency basis, ensuring that you only pay legal fees if they successfully secure compensation on your behalf. With a 99% success rate, we have a proven track record of winning for our clients. 
To schedule a free case evaluation, message us through our site or call.