Truck accidents can have devastating consequences. One moment, you're driving or walking on the road, the next, you've been struck by a truck. Trucks, for the most part, have a higher potential for damage than cars, roughly around 80,000 pounds when fully loaded. To put that in perspective, that's more than ten times the weight of the average car. If you've been hit by a truck, getting medical attention is the first step. The second is to contact an experienced Long Beach truck accident lawyer.
Compensation for Your Accident
As with other kinds of vehicular accidents, in an accident involving a truck, you could be entitled to payment for your medical expenses as well as any you might need in the future. Vehicular repair lost wages, and out-of-pocket expenses – are just a few of the kinds of benefits that we can help you with. 
You can also receive compensation for your pain and suffering, too. There is a misconception that you have to have suffered a grievous injury to receive compensation, but that is not the case. If you've been hurt in any way in an accident involving a truck/big rig, due to the negligence and recklessness of someone else, you deserve to be compensated for that. 
There is a statute of limitations with these cases. For the most part, you only have two years within which to file. The last thing anyone wants is to live with the regret of potentially having a case and yet never filing it. If you believe there's a chance that you or someone you love has been injured in a trucking accident, the worst that can happen is you're told "no." The best, of course, is receiving your due compensation for all that you've been through.
Truck Accident Frequently Asked Questions
A Long Beach Truck Accident Lawyer Who Finds Out the Truth
When you think about a "truck accident," many people will initially think that the truck driver is to blame. Often, they are. Driving a large vehicle is an enormous responsibility. Anyone who would do so and cause an accident through their negligence or recklessness deserves to be held accountable. Should the truck driver be the part at fault in your accident, we will make sure your case reflects that.
Unfortunately, when a truck strikes someone in their car or on the street, they may be more likely to suffer serious injuries. Too often, these accidents have led to bone fractures, burns, severe injuries to the neck, back, and spinal cord, even death. No matter how you or someone you love is injured, we negotiate aggressively on your behalf to receive maximum compensation. 
Truck Accident Factors
However, they might not be the party at fault in your accident. They might not even be the only party at fault in your accident. Many factors could go into a truck accident that often isn't in play in other kinds of vehicular accidents. For example, it could be that the truck's owner was at fault for violating certain trucking maintenance regulations or avoiding mandated inspections.
Cargo could have been improperly loaded into the back of the truck, which would make the accident the fault of those who loaded it in. It could be that the accident was caused by defective or deficient truck parts, which would make it the fault of the manufacturer or other parties.
The Federal Motor Carrier Safety Administration (FMCSA) sets clear regulations for the trucking industry. When truck drivers (or their employers, manufacturers, and others) violate those regulations, they need to be held to account. 
These regulations include the hours of service, as there are only so many hours per day and week that truckers can drive before they are required to take a break. All of their hours as well as their rest and service breaks must be documented.  Accidents are more likely to occur when a trucker ignores those regulations or is encouraged by their employer to do so. 
Truck drivers are also strictly prohibited from using phones while driving unless they can do so hands-free. No matter what or who causes the accident, we can make sure that the liable parties are found and that you receive the compensation that you deserve. 
Whoever was at fault in your accident, we'll find them. Our experienced team of investigative professionals can determine exactly what happened in your accident, why, who was at fault, and more. Then, we utilize that to give you the best possible case.
Confidential Settlement For a Truck Accident – $450,000.00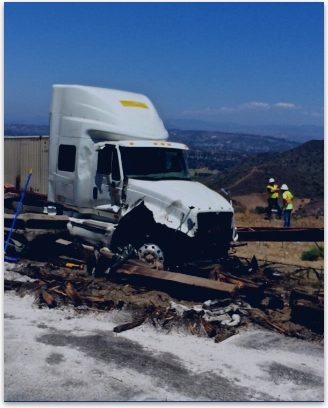 Our client suffered injuries in a collision between a truck and a car. Our client wasn't even in the car the truck hit: he was in a vehicle at the very front of that car. He suffered his injuries because the truck pushed the car to impact his vehicle. This is usually known as a chain reaction or multi-vehicle accident.
The insurance company offered our client just a few thousand dollars; even when it was proven that he sustained injuries from the collision. This money was very far from what he was actually entitled to receive.
We decided to represent this client and filed a lawsuit. At mediation, which took 12 hours, we were able to negotiate a settlement much superior to the amount the insurance company tried to give our client. The final number for this confidential settlement was $450,000.
Experience with Truck Accidents
The truth is that truck accident aren't the same as other kinds of vehicular accident cases. They can lead to worse injuries, outcomes, and more. We have years of experience in cases involving large trucks.
Keep in mind: the other side will have plenty of experience, too. Trucking companies and similar entities are going to have their own teams of investigators, adjusters, lawyers, and others. They'll all be focused on one thing and one thing alone: reducing their liability at any cost.
In fact, that's how insurance companies tend to work. Soon after your accident, they might reach out to you with an offer. This offer will be the bare minimum, almost invariably far less than you deserve for everything that you've been through. It might cover some of your medical expenses, odds are it will cover less. 
Their hope in making you such an offer is that you don't reach out to an attorney. They want you to take that lesser deal so that your case goes away. However, with the right attorney by your side, you can get what you should. 
You deserve to have someone on your side with a proven, winning track record of taking trucking companies, insurance companies, and others on. Now, we can put that experience to work for you. To schedule a free consultation, call our Long Beach Truck Accident Lawyer at (562) 526-1224.