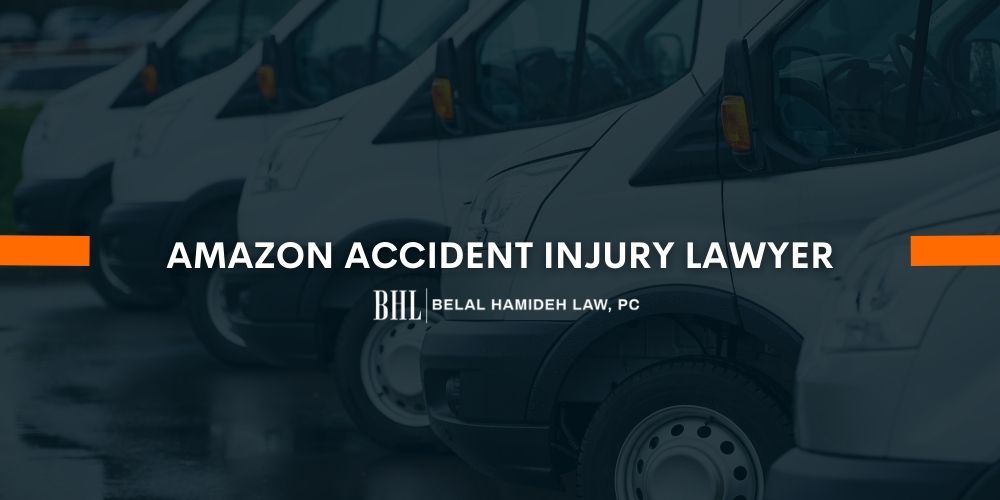 Were you injured in an accident involving an Amazon delivery driver? If so, you very well may deserve compensation for all that you've been through. Experienced Amazon accident injury lawyer Belal Hamideh may be able to help. He and the rest of the team here have taken on big companies in the past and can put that experience to work for you. Hablamos Espanol. 
If you think there's even a chance that you were injured in an accident involving an Amazon delivery, it's worth it to reach out for a free case evaluation. Many clients who weren't sure whether or not they had a case came to Belal only to discover that not only did they have a case, they had a strong one. It's worth it to learn the truth. 
How Common are Amazon Accidents? 
Unfortunately, they're far more often than many might think. While Amazon delivery can be very convenient, it also leads to many accidents and injuries. 
A study from the "SOC," which is a "democratic coalition of four labor unions representing more than four million workers" found that, in 2021 alone, "nearly one in five drivers making deliveries for Amazon suffered injuries in 2021." 
That's so high that Amazon delivery drivers "suffer injuries at nearly two-and-a-half times the rate of the non-Amazon delivery industry." 
While some of those injuries are from Amazon drivers slipping and falling, cumulative trauma injuries and the like, many of those injuries are from accidents with other motorists, pedestrians, etc. 
What's Amazon's Insurance Policy? 
Drivers who are driving for Amazon Flex must, according to Amazon, "maintain the required insurance for delivery packages in (their) area." 
Moreover, "Amazon provides all delivery partners (drivers) in all states other than NY with the Amazon Insurance Policy at no cost." This policy includes "auto liability coverage," "uninsured motorist/under-insured motorist coverage," and "contingent comprehensive and collision coverage." 
Additionally, "this auto insurance policy applies only to Amazon Flex delivery partners who maintain personal auto insurance on the vehicle they are driving and who are actively delivering during the delivery block." 
So, if the Amazon driver hits you in an accident when they are driving to or from work, then the Amazon policy limits may not apply. Rather, the driver's personal insurance would. 
As you can see, these cases can become very complicated quickly. These are all the more reasons to reach out to an experienced attorney who can help to guide you through the process. 
Can I Sue Amazon for My Accident? 
Unfortunately, it will be very difficult to do so. Despite Amazon drivers delivering Amazon products to Amazon customers wearing Amazon clothing, Amazon has managed to get these drivers classified as "Independent Contractors." As such, that makes it essentially impossible to sue Amazon for your case. 
That said, Belal and the team here can conduct a thorough investigation to discover who is liable for your accident. It's entirely possible that the Amazon driver could be liable for your accident, as could a third party. Perhaps the road was poorly maintained. Maybe someone hit the Amazon driver, causing them to crash into you. 
We will find who is liable for your accident and then we will do everything in our power to make sure that you receive all of the compensation that you deserve. 
What Kind of Compensation Can I Receive? 
If you're injured in an accident involving an Amazon driver, you could be eligible for economic as well as non-economic compensation. Economic compensation covers medical bills, the cost of medication, rehab, and any other similar bills that you're facing as a result of being injured in the accident. 
Additionally, this can provide you with compensation for wages that you may have lost on account of being unable to work your own job due to the accident. Should you be unable to work your job moving forward, you can recover compensation for the future wages you lost as well. 
Non-economic damages are compensation for damages that may not necessarily be able to be objectively verified, but still compensate you for all that you've been through. These damages would cover your pain, your suffering, any loss of enjoyment of life, loss of consortium, and so forth. 
When you sit down with Belal for a free case evaluation, he'll go over your case and let you know exactly what kinds of compensation you deserve. Then, he'll let you know exactly how he plans to help you receive it.  
What Should I Do After an Amazon Accident? 
If you're in an accident with an Amazon driver, first remove yourself from harm's way. As much as you are able without risking further injury, get out of the flow of traffic, away from other hazards, and so forth. 
Assess your injuries. Call 911. Let them know what happened. The police will create a report which will be greatly beneficial to your case. Receive medical attention. Even if you don't believe you were injured, it's the right thing to do. You may have suffered internal injuries without realizing it. You may still be in shock. Get professional medical attention as soon as you can. 
Exchange information with the Amazon driver. Do so politely but never admit fault. Exchange information with any witnesses as well. 
To the extent you are able, collect evidence. Take pictures and videos of damage. Focus on that which will be repaired or removed soon: vehicles, environmental damage, and so forth. 
Contact your insurance company. Tell them what happened without embellishment. 
Once you have done all of the above, reach out to Belal for a free case evaluation. 
Contact an Experienced Amazon Accident Injury Lawyer 
Taking on insurance companies, Amazon, and other enormous companies, can be challenging. Belal and the team have done it many times in the past. We can be by your side every step of the way. 
We don't get paid unless we win. Belal and the team get paid on contingency. As such, you only pay if we win. We do win 99% of the time. Moreover, our eventual payment comes out of your compensation. We see this as one more way that we can help our clients. 
It's natural to feel powerless after you're hurt in an accident involving an Amazon driver. Belal can turn your personal injury into a victory. For a free case evaluation, message us through our site or call.